Inspiring our future leaders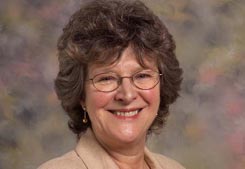 One of the most heartening and enjoyable experiences of my vice-presidential year was spending the day in the company of 150 aspiring school and college leaders at the first SHA Young Leaders' Conference.
Selected by their schools or colleges as the leaders of the future, they were full of enthusiasm and interest in the journey that lay ahead.
This conference was a first for SHA and will definitely be repeated. As education leaders, we have a responsibility to ensure that others will want to follow in our footsteps.
We know about the difficulties in recruiting to leadership positions, both at middle and senior level. The falling number of applicants for such positions seems to indicate that leadership is not an attractive proposition to many of our younger colleagues.
Yet those attending our conference did appear enthusiastic and committed. Common to their experience seemed to be the influence of role models who inspire and encourage them.
We must not underestimate this phenomena and constantly be aware of the influence we can have on others, whether we realise it or not. There are times (and this seems to be one such time for some SHA members) when we may feel overwhelmed by the pace of change, but it would be a pity if feelings about current initiatives were to replace the view that school and college leadership is, for much of the time, a rewarding experience.
One of the reasons for choosing 'sustaining leadership' as the theme for my presidential year is naturally related to the above. In recent years, as an association, we have talked much about our role as leaders. I do believe that we now need to focus on the ways in which we can sustain this role and encourage others to do the same.
Firstly, we need to ensure that senior leadership is properly remunerated. SHA is campaigning for leadership salaries which reflect the responsibilities of all members of the leadership team.
We want an appropriate differential between the highest paid teacher and leadership group salaries and, with the expectation that heads and principals will increasingly work beyond the boundaries of the school, we want deputy heads' salaries to reflect the weight of responsibility which falls on their shoulders.
Salaries alone, however, will not tempt teachers if they believe that the job is not manageable. Despite the best efforts of the Implementation Review Unit, we have not yet convinced national and local governments that the workforce remodelling agenda really does apply to senior staff as well as to teachers.
Many of our members are feeling overwhelmed by the national agenda: staff restructuring, new Ofsted framework, the SEF, changes to data and information systems connected with the new relationship with schools, extended schools and, in some local authorities, job evaluation for support staff.
The timescale for staff restructuring, in particular, is an issue for our members and SHA had advised government of this right from the start. The workforce agreement (inevitably a compromise between all parties), was one we needed to be a part of in order to influence its direction.
We are continuing to advise ministers and civil servants about members' concerns about restructuring and are working with them to see if the current situation can be eased.
Further, I also believe that the achievement of a manageable work-life balance for education leaders lies with us, not in the hands of legislators.
Like others, headteachers must have manageable roles. While they have the ultimate responsibility, delegation - using the skills and talents of the leadership team and senior support staff - can return sanity to the role.
Heads do have to ensure that roles are focused and clear (including their own), but performance should be judged on outcomes, rather than on hours spent.
Sustaining leadership for long-term school improvement must also be about improving the whole system, not just parts of it at the expense of the rest. Individual, heroic leaders can make a difference for a specific space of time, but the real challenge for the years ahead is to develop leaders who work together for the good of all learners.
In SHA we have always developed international links and worked closely with leaders in other parts of the world. It is particularly important in the current climate that we work together, not only locally but regionally, nationally and internationally.
As one of the activities of my presidential year, I have chosen to work through SHA with schools and school leaders in Sri Lanka, raising money to rebuild schools damaged as a result of the tsunami and helping UK students to develop an understanding of the lives and work of students in that country.
I am encouraged by the response from members to date and look forward to working collaboratively with all to sustain this initiative, and others.
By Sue Kirkham, SHA President