Charity Christmas cards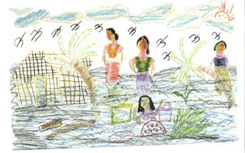 In last year's Boxing Day tsunami, 1,100 children became orphans, 182 schools were destroyed and a further 450 were damaged in the following weeks from being occupied by some of the 500,000 homeless.
The charity Adopt Sri Lanka is selling Christmas cards, with drawings done by children in Sri Lanka, to continue the fundraising effort. Proceeds from the sale will go towards rebuilding schools and helping school children in need. For further details please visit www.twinsrilanka.com or www.adoptsrilanka.com
SHA has launched Project Sri Lanka to help schools and children still suffering from the tsunami. We have partnered with Adopt Sri Lanka, which is based in the country, to oversee the renovation work.
Read about Sue Kirkham and Carole Baldam's visit to Sri Lanka here