Primary motive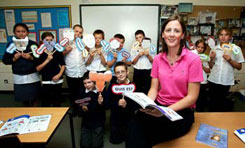 With the emphasis in MFL shifting to primary, SHA's concerns about traditional language teaching at key stage 2 are all the more timely. Peter Downes introduces a SHA/Esmee Fairbairn project that is exploring an alternative.
At Calvary Primary School, near March in Cambridgeshire, the year 6 pupils have a distinctly non-national curriculum timetable on Friday afternoons.
From 1-2pm every week they are studying Latin, followed later in the school year by Japanese, Punjabi and Spanish. Last spring and summer, in year 5, the same group studied French and German.
"The children were checking their timetables the first week to make sure it was there," says teacher Catherine White. "They were really eager to get started."
In fact, when two of the pupils, who had done French and German in year 5, discovered their year 6 group was not doing a foreign language they opted to give up their 'golden time' free lesson to do the languages instead.
Catherine says: "The feedback has been incredible. Parents are delighted and I can't wait to see language teaching introduced throughout the school."
Nearby Burrowmoor Primary School is also following the same syllabus this year. Both schools are part of an exploratory project that SHA is running to test a different approach to language teaching.
Partnering with the Esmee Fairbairn foundation, we have embarked on a 'language awareness' project with nine primary schools in four different LEAs.
The aim is not to make pupils proficient in one language, but to expose them to a number of languages and increase their awareness and interest in how language works.
At the end of the project, SHA will be able to assess whether pupils who have experienced languages in years 5 and 6 go on to make significantly better progress in year 7 and have a more positive attitude towards learning modern foreign languages and towards other cultures.
We already have some evidence, and teachers know from experience, that it is generally easier to introduce students to foreign languages at primary school age.
The government's National Languages Strategy includes an entitlement for all primary school pupils to receive MFL teaching from the year 2012.
Problems for primary
But while there is heavy investment in MFL at primary level, there are also significant practical difficulties about making foreign language teaching work successfully in English primary schools.
There is a national shortage of MFL teachers, which is likely to get worse, and a shortage of primary teachers with sufficient knowledge of a foreign language to teach it for four years.
Curriculum time is already squeezed by existing national curriculum requirements and by growing pressure for improvements in literacy and numeracy. If only one foreign language were taught in primary schools, it would almost certainly be French which would reduce diversification in secondary schools.
And finally, as secondary schools with intakes from 20 or 30 primary schools already know, secondary MFL teachers have to accommodate pupils with a wide range of ability and experience.
In view of all these difficulties, SHA has argued, along with other experienced MFL practitioners, that it would be worth experimenting with a different approach.
In each term of years 5 and 6, the class teacher is allocating 60 minutes per week to language teaching, usually delivered in two half hour slots.
Because the teacher is not a language specialist he or she will be learning along with the pupils the rudiments of a foreign language.
To support the teachers, we have researched a variety of commercial materials, selected those which we thought were most effective and provided copies to the schools.
These include videos and CD ROMs; flashcards and overhead transparency masters for oral work; wall charts; booklets written in simple language; worksheets with quizzes, puzzles and word searches; songs; and teachers' notes emphasising the particular linguistic features.
The materials allow the teacher to bring in geography, history and current affairs but the principal focus is the language.
The linguistic syllabus is basic: numbers, colours, animals, everyday greetings, family and home and classroom objects. All four skills (listening, speaking, reading and writing) are included but the emphasis is on speaking and listening.
The syllabus we provide to the teachers is compatible with the developing key stage 2 framework for MFL, and the concepts and vocabulary are extensions of the literacy strategy.
Novice teachers
We have been interested to see how teachers have dealt with the unfamiliar subjects. At Calvary Primary, Catherine White's language knowledge is confined to A level French and GCSE German but she has said this has not been an issue.
"The project is so heavily resourced that it is proving easier than I had first anticipated," she says. "We have also been really well supported by the research team, who come to visit us at least once every half term."
At Burrowmoor Primary, the higher level teaching assistant, Marie Lucca, is more 'specialist' in the field than many of her counterparts. A language graduate in Italian, she also speaks French and Spanish. But when it comes to Punjabi and Japanese, she will be learning along with the rest of her class.
"That's the whole intention though," she says. "It's meant to be taught by non-specialists and the children enjoy the fact that their teacher is learning with them and looking up words with them."
For this project, the languages being presented are French, German, Latin, Japanese, Punjabi and Spanish, and schools are spending about one term on each.
However, if the idea were to be more widely taken up, especially in ethnically diverse schools, the teacher could substitute a language present within the class as a mother tongue.
Therefore these pupils would, for one term, have a special role as models for the rest of the class. It may also be possible to draw on native speakers from among the parents to help.
For example, the cook at Cavalry Primary, Zachera Terzaghi, was born in Malawi and speaks several different languages including Italian, Swahili, English, French and Spanish. She is often invited into language and geography classes to talk to the children, which adds another dimension to their learning.
In addition to curriculum development, the project has a research dimension. Our hope is that pupils will arrive in secondary school better prepared to start on serious MFL study in a linear and structured way.
Y7 to Y9 progress
Our hypothesis is that progress in years 7 to 9 will be much more rapid, the experience more positive and consequently a higher proportion would continue with languages and possibly take up a second or third language.
The pupils from the project schools will be joined in the secondary school by pupils from other feeder primary schools where language awareness had not been taught (these pupils would be the control group).
At the end of year 7, all the pupils will be assessed in terms of linguistic achievement and attitude to MFL and foreigners.
Using the baseline data now readily available in schools, the value-added factor for all pupils will be calculated. We should then be able to see whether students' early language awareness has made a difference.
'Harder' language learning lies ahead for these pupils as they move through to year 6 but the early indications are positive.
A seminar held in July for all the participating schools produced very positive feedback on progress to date. The teachers commented on the pupils' enjoyment and on the interest shown by parents. It was clear that the teachers themselves have welcomed the stimulus provided by this approach.
Marie Lucca at Burrowmoor Primary says: "It's impossible to be anything other than enthusiastic about it.
"I walk across the playground and the children shout my name out in Japanese. I listen to them playing and I hear them say the Latin word 'eugé' instead of 'great'.
"They are really responding to the whole idea of learning something totally new. They're working hard at it and having great fun at the same time."
Peter Downes is coordinating the language awareness project. He was a modern languages teacher before becoming a head in 1975. He was president of SHA in 1994-95 and president of the Association for Language Learning in 1999-2000.