Strict diet for curriculum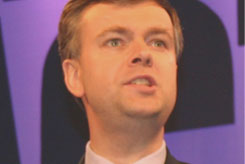 In the final weeks before an election, trenches get dug. Governments pretend that there are no problems or challenges. Oppositions may be tempted to assert that nothing positive is happening.
So it should be made clear that Conservatives recognise and applaud the tremendous achievements of so many of the schools represented by SHA.
The simple question is whether teachers could achieve still more if given less paperwork, fewer tests and less hassle - and instead received more trust, more power and more status.
Discipline
Discipline is not a significant problem in many areas, and it's not the sole responsibility of the school.
But we simply cannot accept the increase in violence, knife incidents and above all assaults on teachers.
Nor can we have the judgment of headteachers, who use exclusion as absolutely a last resort, second-guessed by appeals panels. So our firm pledge is to abolish those panels and give headteachers the final say.
That does not mean making it more likely that your school would be sued, because we will remove access to legal aid and no-win no-fee arrangements for anyone thinking of suing a school.
We will scrap so-called human rights provisions which have destroyed common sense across our public services.
Paperwork
An initiative a week and a huge explosion in the size of the Department for Education have culminated in 2,500 pages of circulars coming round to schools each year.
Ministers seem to think that the answer is simply to put it all on email, so you can pay to print it out.
Let's get rid of the thinking behind the paperwork and the officials who generate it. The money currently spent on two-thirds of staff in the DfES would be better transferred directly to schools.
Funding itself should be automatic, predictable and without strings. Too many schools devote too much senior staff time to applying, competing and jumping through hoops for money.
School structure
Much education debate has tended to be about school structure. I shall be candid.
One of the key mistakes of present and past governments over the last 15 years has been playing favourites. Conservatives now recognise that a two-tier system creates unnecessary tensions, uncertainties and unfairness.
Under our plans, all schools without exception will be self-governing, grant-maintained schools. Running your own budget is not a privilege to be earned. It is a right all heads should exercise.
Half of secondary schools have attained specialist school status - but half have not. A number of heads have told me how extremely difficult it has been to raise the £50,000 from local businesses.
Conservatives will scrap the £50,000 requirement entirely. I want to see heads concentrating on managing their schools, not on fund-raising drives.
Cross-party agreement
On at least one issue there really had seemed to be broad agreement: the Tomlinson report.
Like the government, I believe that A levels and GCSEs should be here to stay.
But like those ministers who commissioned the report, I also believe that an overarching diploma could and should have included A levels, GCSEs, vocational qualifications and functional literacy and numeracy.
We had a chance to move away from 150 years of artificial, and peculiarly British, division between the academic and the vocational - and sadly that seems to have been thrown away.
Exam reform must go hand in hand with curriculum reform. The national curriculum, which was a Conservative invention, has served a number of purposes.
But it has become bloated, over-prescriptive and inflexible. The qualities employers and society should most prize - innovation, imagination, creativity, originality - are being drummed out of our teachers and children.
It is time to change and that means reducing the national curriculum's over-lengthy shadow.
Spending
We all now recognise that improvement cannot come cheap. As I stated at my party conference, Conservatives must recognise that we did not spend enough on our schools.
The current government was quite right to increase school spending. Far from reversing that, we wish to go further still.
Oliver Letwin's public spending plans involve growing funding for schools by a third over the next five years, so it would be £15 billion a year higher by 2010 than today.
All of us want to see the very best for all our children. We should, and do, have our differences on how best to get to that goal.
But let us recognise that there are some national objectives which are simply more important than that.
By Tim Collins MP, Conservative Shadow Secretary of State for Education and Skills