Let?s talk about hot dates...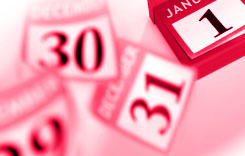 The traditional English education calendar is having a negative effect on learning, argues ASCL member Alison Saunders. She states that a six-term year doesn't go far enough and proposes a more drastic solution.
As our year 11 students sat their mock exams towards the close of last term, I was reminded of the exams last summer and the problems we encountered at that time.

Our school is typical of many built in the late 1950s. The school was featured 50 years ago in an architectural magazine which extolled the virtues of the 'new glass palace' set in parklands on the edge of Hertford.

In those same premises, which were originally built to accommodate 450 and have not seen any major alterations, we now welcome over 1,050 students.

True to the British trait of speaking continually about the weather, those of us who work here complain on a daily basis that the buildings are consistently too hot or too cold - ideas far removed from the notion of any palatial residence!

This was compounded by the heat wave in late June and early July last year, when several local schools contacted me for advice about whether they should continue with planned sports days and outings, when the local authority put heat-related health and safety advice on its website and when several local primary schools closed early each day.

We made the decision to soldier on. In some areas of the school it was unbearably hot and I encouraged staff to take classes outside. I am convinced, however, that little meaningful work was accomplished as staff and students became lethargic and suffered the effects of hot, sleepless nights.

After the first week of the holidays, the weather reverted to its normal pattern and, as the nights began to draw in, the weather became cooler. During this time, I happened to glance back at the government's consultation document on sustainable schools.

It occurred to me just how relevant it was; we had spent the end of term struggling against the hottest part of the year, made worse by climate change, in buildings not designed to cope with these extremes.

These factors had an extraordinarily negative impact upon learning, and I was aware once again that the English education calendar seems out of kilter with the agenda for the 21st century.

Our local authority has rejected proposals for a six-term year and seem slow to alter provision. Personally, I am becoming increasingly frustrated by the rigidity of this and would like to propose a more radical solution.

Why can the summer term not conclude at the end of June as the GCSEs finish? I am sure that many other schools share our frustration as we try to coax year 12 back to start A2 courses - a crucial issue in a school with a very large sixth form.

If we were to take our holiday in July in common with Scotland, and indeed most of mainland Europe, we could recommence in early August when, even if temperatures continued to be high, the evenings would at least be drawing in and the nights somewhat cooler.

As an added bonus we would, of course, be in school when the GCSE results were published, which will help with the key stage 4 to 5 transition.

My conviction that this is a better alternative was further strengthened when I opened my TES on 25 August. An article pointed out that in 2008 the A level results will probably be released to schools a week earlier, on 6 August.

At present, Hertfordshire LA is recommending that the summer term end on 23 July. If this does heppn, senior leaders will not be able to take two weeks' holiday during the summer of 2008. How can this be right?

I am aware that this proposal would create different issues. For example, could staff be expected to work from mid-August through to the third week in December?

This will inevitably cause the discussion about having a two-week half term in October to resurface, and this would in turn lead to re-examination of other holiday dates - a typical domino effect!
So, I have no doubt that it would be easier simply to bury our heads in the sand and just put up with things. But surely such innovation is an integral part of the new schooling agenda. Unless we question these 'sacred cows' we will not succeed in moving forward.

Alison Saunders is head of Simon Balle School in Hertfordshire.

Your view
Would it work to bring the summer holiday forward, or are there other issues to consider? Share your views by writing to leader@ascl.org.uk and let us know if you would like them to be printed in Leader.