New Zeal for life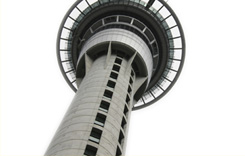 ASCL member Heather Scott tells why she went half way around the globe - to the ICP convention in New Zealand - to find ideas for her own school's BSF project. And she explains why it was worth it.
Kia Ora! No, not the orange coloured drink, welcome in Maori! And what a welcome I received as one of 1,600 delegates at the 8th World Convention of the International Confederation of Principals (ICP) in Auckland, New Zealand in April.
I was privileged to be awarded a £500 bursary by ASCL to attend the convention - a sum matched by my local authority's Building Schools for the Future (BSF) team which saw the benefit to Leeds of my involvement in the cutting edge of education worldwide.
I was supported by governors and colleagues at Allerton High School in Leeds who wanted to hear about every possible nook and cranny of the schools we visited - in case there was something to add to our own BSF development.
The 58 UK delegates joined colleagues from Australia, Canada, China, Finland, Germany, Ghana, Iceland, Indonesia, Ireland, Israel, Japan, Kenya, Lesotho, Libya, Netherlands, New Zealand (of course!), Nigeria, Norway, Qatar, Saudi Arabia, Scotland, Singapore, South Africa, South Korea, Sweden, Switzerland, Tanzania, Uganda, USA and Zambia at the convention - subtitled 'The Leading Edge'.
Some of the world's leading motivational speakers shared the stage with political leaders, educational leaders and the inspirational Li Cunxin, Mao's last dancer. Organisers arranged for us to travel to a variety of schools in Auckland, where we could see for ourselves the current developments in curriculum, building design, student engagement and motivation.
The key points of impact for me, over the week's convention, were:
Partnerships. I was reminded of the importance of sharing leadership within schools, local networks and countries. We need to share leadership (distributed, collaborative, networked) with others, including staff and students. The wheel is already invented - we just need to ask others which spoke they're working on currently.

Passion. Nearly all the speakers referred to passion at some point in their delivery and everyone I spoke to talked with passion about their students, their schools and their vision for the future. Without passion, we can't give our lives to the students - and with passion, we can continue to make an enormous difference.

Pedagogy. We listened to New Zealand's Prime Minister, Helen Clark, and the Minister for Education, Steve Maharey, talk of the need for engaging and motivating youngsters - hence their decision NOT to follow a national testing programme. We talked of Assessment for Learning across the world, where teachers use different methods but still talk to the students coherently about their progress.

Practice. We saw excellent leadership on our school visits and talked with the staff and students about what is good leadership. We reminded ourselves of the need to nurture and celebrate the talents of the youngsters we care for. This showed us that we need to be brave, and to think differently about what and how we teach.

Principals. I met principals from all over the globe with the same common goal: to be the best school leaders we can be. They were all passionate, enthusiastic and committed, wanting the best for their students. From Australia to Zambia, the goal was the same -
the difference is how we get there.

Problems. Problems are similar but different: funding, curriculum, engagement, reporting, accountability, building design, admissions, behaviour, quality professional development. The other challenge is 'self' - if self is the only tool we have as leaders, how aware are we of our impact on others?

Privilege. I was constantly reminded of what a privilege it was to be here. Speakers reminded me frequently of the responsibilities and accountabilities we face daily and asked, just like staff, why would I want to be led by you? This is a key point for me - if this is what staff and students asked, what would my answer be?
And what was the lasting impact on me? I have already bought several books mentioned (The Lemmings Dilemma by David Hutchens and Bobby Gombert; Out of our Minds by Sir Ken Robinson; What Great Principals do Differently by Dr Todd Whitaker) so that I can read again their insights into leadership.
I have re-affirmed my commitment to students, to make a difference to the lives of the youngsters we care for each day. I also plan to make time to maintain contact with the principals I met and to learn from their expertise.
I will try to remember that we're not alone - there are thousands of principals out there around the world, who are doing the same thing, laughing at the same jokes and being troubled by the same issues.
Kia Ora, and Haere Ra: 'thank you' to all in Auckland who made us so welcome. And if you get the chance to travel to Singapore in July 2009 for the 9th Convention, take it.
Heather Scott is deputy head at Allerton High Business and Enterprise Specialist School in Leeds.