And now, a talking potato...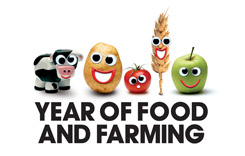 Representing ASCL can bring some bizarre assignments, but few involve an encounter with a talking potato. (Though those who have worked with some of our more intransigent civil servants may claim an empathy.)
The talking potato, sadly, does not actually talk. Nor is it a real potato. It is the emblem of the national Year of Food of Farming, which begins in September 2007. My interest is as ASCL's representative on the associated Education Working Group.
The aim of the year is to raise public awareness of all things related to food, farming and the broader issues of the countryside. It seeks to promote healthy living by giving young people direct experience of these issues.
By involving local farmers, food-producers and national associations, it hopes to offer students opportunities to find out how food is grown, to prepare food for themselves, to explore why food production matters, to make more informed choices about healthy eating and to discover farming and the countryside through organised visits.
In particular, it promises "an exciting crop of resources, activities and events for teachers and schools".
Schools should have received information about the year, with specific details for heads of relevant subject departments. The intention is that resources will link explicitly to aspects of the National Curriculum. There is also a website www.yearoffoodandfarming.org.uk where you can obtain further information and, if you feel the urge, register your school.
This may be one government initiative which, like the talking potato, you can learn to love.
Tony Neal