The green squeeze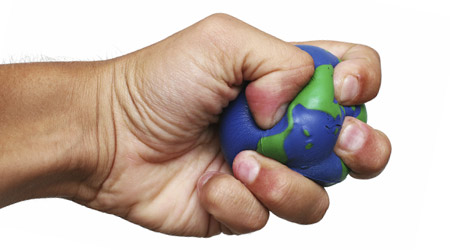 There's no doubt that schools and colleges are supportive of the green movement. But one school saw its carbon footprint increase as a result of measures intended to promote sustainability and others are foiled by student opposition or practical drawbacks. It's not proving easy to be green, Liz Lightfoot finds.
Most primary school headteachers can reel off the measures they are taking to help the environment: walking buses, golden boot awards for children prepared to walk the longest distances, paper recycling, litter monitors, cottage gardens and links with schools in developing countries, all supported by a host of local and national awards.
It's encouraging to think that the children who run around primary schools turning off lights and diligently sorting out paper, plastic and cardboard have learned a lesson for life in caring for their planet.
Speak to secondary school heads, however, and there seems to be the same tendency for pupils to regress environmentally in year 7 as has been identified in maths and literacy after the pinnacle of Key Stage 2 SATs. There's so much else for them to worry about as they find their way around the school that environmental concerns begin to take a back seat.
Chris Rolph, the headteacher of Monks' Dyke Technology College in Louth, says green politics don't seem to have gripped young people in the rural part of Lincolnshire that the school serves. He's found recycling "difficult" and says it has progressed in fits and starts, largely because of the failure to solve the logistics of placing the bins where people would use them on a spread-out site.
Strong opposition from students led the school to abandon its plan to charge a nominal fee for pages printed out above an agreed allocation for each student.
"We wanted to introduce the very modest tariff to make them think again before printing something off, spotting a mistake, printing it off again, seeing another mistake and printing it once more," he said. "There was such a big fuss we dropped the idea."
Pupils are taught about energy and waste and sustainability across the curriculum at William Parker Sports College in Hastings but what they see outside the gates fails to reinforce it, says the headteacher, Derek Greenup.
"Just about everything they buy is packaged," he says. "People want everything to be easy. They leave televisions on standby because they want just to sit somewhere and press a button. They leave computers on stand-by so they don't have to wait when they want to use them again."
One more for the bin
The Government's 'year of action' on sustainability - 2006/07 - passed many people by. Kendrick Girls' Grammar in Reading is taking steps to reduce its carbon footprint but the response of the head, Marsha Elms, sums up the frustration of many in the profession: "My only experience of the sustainability strategy is when one of the schools in our improvement partnership said they had been sent a questionnaire about what they were doing and it was another bit of rubbish for the bin."
An enormous amount of time was spent by the then-DfES drawing up a national framework for sustainable schools published last year in a series of booklets and posters, supported by a sustainable schools section on the Teachernet website. It divides the campaign into eight 'doorways' to help all schools become carbon neutral by 2020. By this date the Government would like all schools to be:
model suppliers of healthy, local and sustainable food and drink

models of energy efficiency l models of sustainable travel

models of sustainable procurement

using sustainable design features

models of social inclusion

models of good corporate citizenship

models of good global citizenship
Though pupils in the consultation process backed the document, the response from the profession was more muted, according to the department, which summarised the adult responses as follows: "We back your vision but show us that you are serious about seeing it through."
While teachers were "overwhelmingly positive" about the idea of and need for sustainable schools, they "asked searching questions about how they can be encouraged to take root in practice," it said.
Despite their vocal scepticism of the government's follow through, school and college leaders are quietly getting on with teaching young people to recycle, switch off lights and thinking of the impact of their consumption on the rest of the world.
Andrew Dodd, the financial director of Camborne Science and Community College in Cornwall, says paper is recycled and the travel plan has halved the number of buses needed to transport pupils. The new design and technology block is heated by pipes harnessing heat from the ground which is then pumped up to radiators.
Guiseley School in Leeds meets the objective for using local produce and is drawing up plans to start addressing the Government's eight doorways with sixth-former Rebecca Duerden who collected the information at a youth conference.
Hampered by buildings
However, many schools and colleges, even those in new builds, say their efforts are hampered by their buildings, a claim which is backed up by a group of MPs who looked into the issue.
An inquiry by the Commons Education Select Committee heard that there was no incentive for the builders of schools under PFI to spend extra capital on costly energy-saving features given that the future running costs would be borne not by them but by the schools themselves.
Even the new academies were mostly built under the previous rules which did not require a BREEAM assessment of environmental impact (the standard for measuring a 'green' building).
Sam Price, the chief executive of Bexley Business Academy in Kent, says it was built with an air cooling system comprising louvres at a high level which open at night to cool the building but it doesn't work well in practice. "We spend more money than we were supposed to save trying to get the heating sorted out and hiring portable air conditioning units to cool down the classrooms," she says. The school has just started a recycling programme which is proving "an absolute nightmare". Not least of the problems is persuading pupils and cleaners to observe the colour coded bags.
Fairfield High School, in Bristol, another new school built between 2004 and 2006, is also lacking in energy-saving features. Disappointingly, says John Ryan, the bursar, there is nothing that stands out as part of the sustainable agenda. "When you have a new school there should be solar panels or wind turbines or even simple things such as light sensors and an efficient heating system. We are on six floors and we can't even switch the heating off on the upper floors when we just want it on the ground floor," he says.
A 1960s building with little insulation and several temporary classrooms is hampering efforts at Ribston Hall High School in Gloucester to reduce its carbon footprint. But students monitor and collect paper and cardboard for recycling, the ICT manager has set up a programme to turn off all computers at 4pm and there is a big focus on switching off lights when rooms are not in use, says Sandy Woodcock, the finance manager.
"Of course we should be recycling. I fully agree with that," says Sam Price. "But the Government should remember that it's tricky in practice and there are many other things you have to do at the same time, such as run a school."
Only one school in the country has so far claimed to be carbon neutral: Hampton in Richmond, Surrey, a boys' independent day school. And it could never have got there but for carbon offset payments made to support energy-saving projects in developing countries or environmental measures such as tree-planting to balance out the energy expended. Jim Knight, the schools' minister, has admitted that at least some of the Government's targets may have to be achieved through carbon offsetting.
The aspiration for schools to be models of good environmentallyfriendly practice are initially proving harder to fulfill than expected. But the green agenda is not a passing fad. Schools and colleges that resist it may find themselves out of step not only with ministers but also with the wider world.
Liz Lightfoot was formerly education editor for the Guardian.
---
Free advice on saving energy
The Carbon Trust offers free advice to businesses and public sector organisations on how to save energy and the biggest response has come from secondary schools, sixth-form centres and colleges of further education.
Only those with fuel costs of more than £50,000 a year can qualify for the survey, which explains why the secondary sector overshadows primary schools on at least this measure of environmental awareness.
That it was the bursars or financial directors who usually picked up the phone suggests cost-saving was an important motivation. The trust, however, says it was heartened by the enthusiasm with which staff carried out the measures and sought to engage pupils in the wider aspects of protecting their planet.
Hazel Grove High School in Stockport, for example, was told how to save £16,000 on its £64,000 a year energy bill, reducing its annual carbon emissions of 530 tonnes which was enough to fill 11,000 double-decker buses.
Woodhouse College, the sixth-form centre in Barnet, north west London was advised it could save 17 per cent of its £55,000 bill and within six months reduced its energy consumption by 8 per cent, saving around £4,500.