Parliamentary Press Gallery Award winners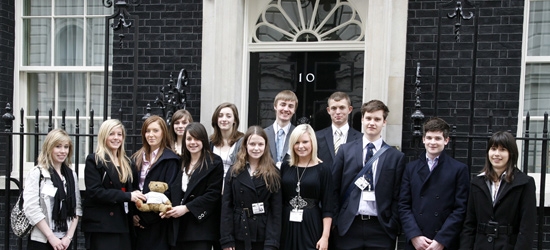 Congratulations to 13 students who submitted the winning entries in the Parliamentary Press Gallery's Write Now writing competition and spent the day on 3 March touring Number 10 and Parliament and meeting with ministers, parliamentary journalists and MPs. They were due to meet the Prime Minister Gordon Brown but, unfortunately, a last minute appointment with Barack Obama took him out of the country for the day.
As in past years, the competition was divided into two age categories. For years 10 and 11 (S3-4 in Scotland) students were asked to write about the one thing they would ask the prime minister to do to make Britain a better place. For years 12 and 13 (S5-6 in Scotland), students had to devise an effective media campaign to promote a more positive image of young people.
ASCL is pleased to help sponsor the Write Now competition and we hope that even more schools of all types from all areas of the UK will enter the competition next year. The essay topic will be announced in September on the competition website www.writenow.org.uk
The winners
Louise Chenciner, City of London School for Girls
Louise Cox, Saint Martin's School, Solihull
Zoe Eales, Saint Martin's School, Solihull
Lucy Gillespie, Victoria College, Belfast
Charlotte Gregory, Victoria College, Belfast
Poppy Mosbacher, King Edward VI Community College, Totnes
Adam Roberts, Royal Grammar School, High Wycombe
Victoria Rowley, Southend High School for Girls
Laura Scott, Emmanuel College, Gateshead
Briony Stenhouse, Saint Martin's School, Solihull
Daniel Timms, Acle High School, Norwich
Guy Waller, Colfe's School, Greenwich
Toby Willmer, Hurstpierpoint College, West Sussex