African dream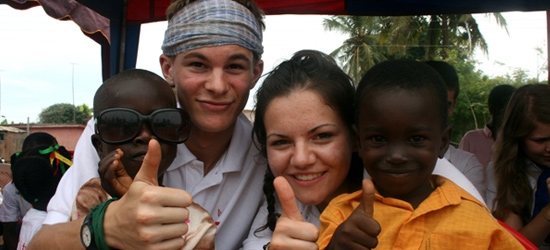 ASCL has launched a new international project, Partner Ghana, with World Challenge and the Sabre Trust, to help UK schools make lasting links with the African country. Moyra Zaman describes how her school's partnership has flourished.
Ghana was the first African nation to achieve independence and is something of a role model as a peaceful, stable democracy. It also offers a wealth of cultural experience, which was what initially triggered Chesham High School's interest in developing a partnership there. The fact that it is an English speaking country on the same time line as the UK also meant there was potential for good communication links.
Our initial attempts at school linking with a rural Ghanaian school lapsed after six months, despite an enthusiastic start, due to a lack of support on the ground. So we soon learned the importance of developing a sustainable relationship.
After careful investigation, we started again with the Sabre Trust, as they have an operational presence in both countries and a charitable focus working with schools in Ghana.
Reciprocal teacher visits, funded by a British Council grant, were our first step. In travelling to Brenu Akyinim Junior High School in May 2006 I was able to see the partnership in context and the potential stumbling blocks and practical issues involved. We discussed areas for project development with the teachers and considered where Chesham might offer material support.
The return visit of Brenu's headteacher to Chesham turned the Ghana link into a reality. He was a wonderful ambassador for this extraordinarily friendly nation and helped to engage teachers across all subject areas. Not only did he inject his culture and love of life to the whole community but he was also extremely receptive to all he could learn, especially in terms of school management, which he put to good use in Brenu.
During the reciprocal visits we formalised the partnership, submitting our memorandum of understanding for approval by the district education director in Ghana. This document set out our goals for the partnership and, remembering the Ghanaian saying that "the best way to eat an elephant is in small bites", we started modestly, gradually developing a wide range of projects across the curriculum.
In a very short time we have extended from pen pal letter writing to voice recordings supported by SoundAffects and live webcam linking both schools and communities. The webcam, which involved the elderly in the community, was recognised in the Digital Unite website as one of the best events in schools they had seen.
We have also developed the tradition of celebrating our partnership with a Ghanaian Festival in Chesham. It is a colourful occasion embracing all aspects of Ghana's rich cultural heritage and involving a wide cross-section of our local community and supporting charities.
The partnership experience has extended to annual student project visits to Brenu, which started in 2008. During their three weeks in Ghana, the students receive a tremendous welcome from the village community and live and work alongside Ghanaian 'buddies' to improve the school environment and share sporting and personal interests.
Some of these endeavours have included building a school canteen, establishing a school farm and creating a textile workshop as well as organising the annual kindergarten sports day. The teams also have time to explore the region's cultural heritage and engage in traditional events which make a memorable impression.
Every returning team comments on the amazing warmth and happiness engendered by the Ghanaians and takes home a humbling appreciation of their own lives. It also gives the students a new sense of direction and awareness of their place in the world. The positive outcomes and new ideas have instilled even greater interest in the partnership back at school.
Gap year students are now volunteering to work in Brenu, bringing a real face to the partnership in Ghana; they are also able to liaise regarding curriculum projects and work with Ghanaian students who are now recognised and known back at Chesham.
Local organisations such as Fair Trade Chesham and Workaid are now engaging with our partnership, and parents are very receptive to our fund-raising initiatives. We are currently aiming to finance a visit by two Ghanaian students and a teacher to Chesham in March 2010. This is a new and exciting development which will enhance the equitable nature of the partnership and deepen the cultural relationship between the two schools.
Establishing a partnership in Ghana has impacted at every level in the school, embedded global initiatives in the curriculum and enhanced community cohesion. These developments, in turn, have contributed hugely towards achieving the International School Award.
Our thriving partnership is undoubtedly due to the relationship and shared interests established between the Sabre Trust, World Challenge and the schools involved. This commitment has allowed each party to grow according to their needs and provides benefits for all concerned.
Moyra Zaman teaches at Chesham High School, an 11-18 school in Buckinghamshire.
---
Partner Ghana
Partner Ghana has been launched to help schools establish a long-term relationship with a partner school in Ghana, creating a sustainable cultural and cross-curricular exchange, which culminates in team expeditions to complete project work at their partner school. If your school is interested in joining the Partner Ghana scheme and developing its own link with a Ghanaian school, please visit www.world-challenge.co.uk/pages/partner_ghana.asp for further information.