Wales funding fog clears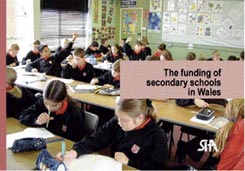 There are distinct signs that the 'fog' surrounding funding provision in Wales may be clearing.
The SHA Cymru report The Funding of Secondary Schools in Wales, published last March, caused a flurry of interest within education and political circles.
The Minister of Education and Lifelong Learning, Jane Davidson, was considerably aggrieved as opposition parties used the report's findings to present awkward questions in the Assembly at every opportunity.
The political scene in Wales offered a window of opportunity at the general election with the election of Peter Law as an independent candidate. This enabled the opposition parties to muster up 30 votes against the Welsh Assembly Government's 29.
Two significant events have occurred since then. The Plaid Cymru party promoted a minority party debate on school funding, which was supported by all the other minority parties, and led to a cross-party group to investigate the issue. The group is to report its findings in a year's time.
Furthermore, the minister has now accepted that there is an issue and has revived a school accounts working party (which had never met). SHA members Brian Lightman and Brian Rowlands are serving on this group, which will look into the creation of a consistent financial reporting (CFR) system for Wales.
This will hopefully be similar to the model in England which was of such importance in the evidence base for our published report. The creation of this CFR system for Wales and the report from the cross-party group should help bring greater clarity and transparency within Wales.
SHA Cymru is greatly indebted to the work of Lindsey Wharmby, our funding consultant, for the enthusiastic work carried out in the publication of the initial report. We will continue to use her expertise to support our efforts in the CFR working group.
By Brian Rowlans, SHA Cymru secretary