Statistics under scrutiny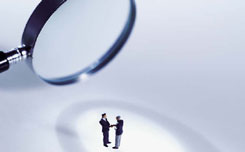 More than 50 per cent of heads feel the secretary of state is out of tune with schools' needs, according to the latest findings of the Headspace survey.
Despite this, nearly two thirds of secondary school leaders say their morale is high, greater than reported by their primary colleagues.
John Dunford, along with minister Jacqui Smith and Carol Whitty of the NAHT, fronted a debate at the Guardian Newsroom in January with headteachers on the latest Headspace results.
Headspace is the poll of school leader opinion carried out once a term by ICM for Education Guardian and educational consultant EdComs.
The second wave of findings, which were compiled in December, revealed scepticism about the government's plans for education, in particular the proposed expansion of popular schools and pressure on schools placed in special measures.
Optimism despite government
In his opening speech, John Dunford picked up on the high morale, pointing out that school leaders are enthusiastic about their work and that the government would be foolish not to tap into that.
"It is very interesting that 62 percent of secondary heads have high or very high morale at the moment, with just 20 per cent having low morale. I think it is a good lesson for the government to focus on standards rather than structures.
"One of the challenges for us as school leaders is to capture the buzz of teaching and learning that our really cracking young teachers have."
He said to Jacqui Smith: "I hope the message from the government is not going to be: 'We have a lousy system here that we need to really sort out', but about building on the real successes of many of the people in this."
The minister acknowledged that the last term, when the survey was filled in, had been one of the most difficult for school leaders, with a huge additional workload created by restructuring, self-evaluation and the new inspection framework.
However she denied that the government had "taken its eye off standards". She said that raising standards was "absolutely at the heart of the white paper. But we can't achieve that unless we ensure that across the country and wherever they are needed there are more good school places."
Expanding popular schools
Survey respondents disagreed. Nearly 60 per cent of secondary school leaders said they were not very much or not at all in favour of expanding popular schools.
During the debate, John Dunford pointed out that schools will look at this issue in two ways. Schools either will not want to expand themselves because they do not want to lose their own ethos and culture or they are concerned that other schools in their area will expand thereby shrinking their own pupil numbers.
ASCL member Rob Benzie, of Ansford Community School in Somerset, added that parents in his area did not want more choice of schools; instead they wanted to be assured that they had a good local school.
"The problem I have with the white paper is that it is rooted in the belief that you can improve standards through choice and I don't think that is the way. I absolutely agree with what you're trying to do, raising standards, but the model is wrong."
Schools in special measures
John Viner, head of a primary school in Margate, Kent, was one of several heads unhappy with the government's belief that a failing school could be turned around within a year. "It takes longer than that. If the government is going to stick with this line, it will be a good way of reducing the number of surplus school places. It worries me that we are going back to naming and shaming."
More than 80 per cent of respondents in the survey said that one year was not enough to take a school out of special measures.
The role of the local authority was one area where primary and secondary colleagues disagreed. Nearly 50 per cent of primary schools want their authority to be a commissioner of education services, while for secondary schools the number was closer to 25 per cent.
John Dunford pointed out that this reflects the very different level of resources and expertise found in primary and secondary schools. He said that the education white paper failed to acknowledge the different needs of secondary and primary schools in relation to the local authority.
Further information
The Headspace survey is repeated every term and, despite the name, any deputy or head can take part. The results are shared with all participants. To register or get more information, go to www.icmresearch.co.uk/headspace
The next survey starts in late February. Check the e-newsletter for details.