The problem child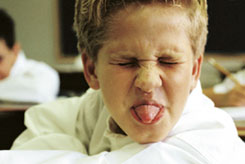 Tackling problem behaviour has been at the front of the political agenda recently, with truancy, exclusions and 'low-level classroom disruption' all vying for headlines. The government is sticking to its support of 'zero tolerance' but will it work in the classroom? Julie Nightingale canvassed SHA members for the real picture in schools.
It all kicked off in February, with the HMCI annual report stating that 9 per cent of England's schools had unsatisfactory standards of behaviour.
The government was quick to respond. Speaking to secondary heads in Blackpool, Ruth Kelly generated her first wave of controversy by wholeheartedly backing schools that endorse a zero tolerance policy.
It was time to "redraw the line", she said, on what constitutes acceptable behaviour.
At Ofsted, David Bell took a more tempered line. "Serious incidents remain rare," he pointed out. "Most unsatisfactory behaviour involves low-level disruption."
Most problems, he said, were around lessons being disrupted by incessant chatter, calling out, inattention and other forms of nuisance that irritate staff and interrupt learning.
Straw poll
In the past two months, behaviour, and what to do about it, has rarely left the headlines. But does the debate reflect reality in schools?
An informal survey of SHA members in England and Wales found unanimous agreement that low-level disruption is a tangible problem, and one that has worsened in the last five years.
School leaders were quick to point out that the problem is not confined to schools, nor is it one that they can tackle alone.
However, there was little enthusiasm for 'zero tolerance' of bad behaviour.
Mo Laycock is head of Firth Park Community College in Sheffield, sited in one of the poorest areas of the UK where second and third generation unemployment is par for the course and 43 per cent of students are entitled to free school meals.
As well, about 40 per cent of the children have special educational needs.
"I have been teaching for 30 years and have taught in five, mainly inner city, schools. I believe that, yes, behaviour has worsened in the last five years," Mo says.
Though the school is described as 'very effective' by Ofsted, poverty and deprivation have contributed to downward pressure on behaviour inside and outside the school walls.
"We are getting kids who are blatantly taking staff on and showing no respect for teachers or other adults because, I believe, that's the way parents react.
"Parents, too, have got worse and are rude and offensive.
"It's my view we're dealing with the consequences of the Thatcherite Eighties. The gaps between the haves and have-nots are wider now."
Zero support
She does not agree that zero tolerance is a suitable strategy for education.
"Schools need to have consistent structures because there are a lot of students who don't have those structures in their homes in terms of parenting," she says.
Gwernyfed High School, an 11-18 mixed comprehensive in Powys, is described by the Inspectorate for Education and Training in Wales as a successful school which far outstrips the targets for the quality of teaching.
It has just 3.8 per cent of pupils entitled to free school meals and 18 per cent with special educational needs.
Here too, the head, John Hopkins, agrees that behaviour has worsened and it is having a marked impact on staff.
"There's an increase in disruption which wears teachers down. There is more answering back and more pupils believing they can talk rather than listen to a teacher.
"There's a lack of respect that appears to be developing. It's one of the things staff are complaining about. And it's harder now to be tough on discipline than it was."
The school also gets less support from parents, he adds.
Wales is not subject to Ms Kelly's views and Hopkins would be unhappy if zero tolerance became the norm for schools there.
"Zero tolerance means no bad behaviour and I'm not absolutely certain that it fully works in schools. A good teacher knows when to laugh at something.
"If you punish every time somebody talks when they shouldn't, you actually risk cutting out some of the successful stuff.
John adds, "You have to set a level beyond which you are not prepared to tolerate disruption and ensure every member of staff upholds it.
"We should be trying to avoid confrontation and working with pupils. We should raise good behaviour to a point where youngsters don't tolerate bad behaviour themselves."
Younger exclusions
Marsha Elms is headteacher at Kendrick Girls' Grammar School in Reading, a school of 'outstandingly high quality', according to Ofsted, with solid support from local families.
There have been no exclusions of any kind in the last five years and the school is possibly unique in experiencing no behaviour problems.
"We're not a true measure of the wider picture because behaviour here has actually improved in the last five years," she says.
"But I know from other heads and from my work as a magistrate that problems have increased. Year 9 is notoriously bad but it has also got worse among younger children with far more exclusions in primary schools as well."
She believes zero tolerance in schools is an impossible ambition without a radical adjustment of young people's attitudes towards authority in society in general and a shift away from anti-authority figures as role models.
However, she welcomes Ruth Kelly's support for heads' autonomy.
"I know of heads who have excluded pupils and been overruled on appeal. That's disgraceful. Anything that can give headteachers support for their behaviour policies in school, I applaud."
Nigel Hoggarth is deputy head at Mayfield School, Portsmouth, an 11-16 community comprehensive where many students come from disadvantaged backgrounds and with a higher than average proportion of children with special needs.
He, too, acknowledges that behaviour has deteriorated in recent years but is opposed to zero tolerance and the assumption that a one-size policy fits all contexts.
He says: "I always think you should treat youngsters as individuals so you respond to how they behave as individuals and you have the appropriate rewards and sanctions. Zero tolerance smacks of policing rather than managing youngsters' behaviour."
Deborah Duncan, deputy head at Bingley Grammar School in West Yorkshire, an over-subscribed, 11-18 comprehensive, points to a reluctance among children to let the teacher have the last word.
"Behaviour has definitely got worse in the last five years. What's noticeable is the tendency of children always to argue, even if you tell them off for something very small."
She, too, is doubtful about the value of zero tolerance as a mantra for enforcing discipline.
"It's a bit emotive. Heads never talk about zero tolerance. It's more about supporting children although there has to be a point in dealing with bad behaviour at which you say 'that's it, enough'."
But at least one school leader was less convinced that behaviour has declined in recent years.
Filsham Valley School in East Sussex is an 11-18 community comprehensive which serves a mixed catchment area with pockets of deep-seated disadvantage.
It has a significant number of children on the roll who have been excluded from elsewhere.
Assistant Head Helen Kenward does not subscribe to the worsening behaviour theory but suspects that a change in children's attitudes towards education is being misinterpreted as anti-authority.
"A lot of colleagues would say that behaviour remains the top concern for them in terms of managing in schools," she says.
"But I'm not sure it's got worse. I have been teaching for nearly 30 years and children have changed, yes, but for the better in that they are more demanding in terms of what they expect as a good education.
"I think they are more challenging and more likely to let us know if teaching isn't good. There's a lot more pressure on children today and on teachers, too."
She vehemently rejects the notion of zero tolerance as wholly inappropriate for schools.
"I'm appalled at the very concept. What our teachers understand by it is that the head has the right to exclude children from the school at the first offence.
"The very phrase suggests to the public and teachers that we don't have to tolerate anything - but our job is to teach children how to behave. What would parents do if they had a zero tolerance policy at home?
"Zero tolerance is linked to the most serious of crimes but we are talking about children in schools and about children's learning. Zero tolerance doesn't match low-level disruption in schools.
She adds, "Bad behaviour needs proper strategies. We have to remind teachers that managing behaviour is based on building relationships with children."
Ofsted identified low-level behaviour as a key problem and a significant barrier to learning in a minority of schools but our vox pop comments suggest that concern about it is much more widespread.
It also suggests that the profession does not share the endorsement of zero tolerance as an appropriate strategy for schools, even if it does make good headlines.