Kate Griffin takes office as President of ICP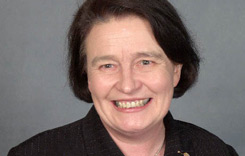 ASCL past president Kate Griffin has been elected to the prestigious position of president of the International Confederation of Principals (ICP). She took up her office in January.
Kate was president of SHA in 2002-03 and served as a Council representative and member of the international committee for 12 years. She is head of Greenford High School, an 11-19 school in Ealing, West London, with a highly multi-cultural student population.
ICP is the global organisation of school leaders' associations. It has more than 40 member associations, representing 135,000 individuals, across five continents, including organisations in Australia, the US, South Africa, Canada, most European countries and many other Commonwealth countries. ASCL (then SHA) was one of the founding members of ICP.
Kate is the first British head to be elected president; she has been on ICP council since 2000 and has been instrumental in raising the profile of ICP and of ASCL on the international educational scene.
She says: "School principals are arguably the most influential people in the world; they have the joy and the challenge of educating the next generation. One of my priorities is to increase the opportunities for principals from different countries to learn from each other.
"There is a great deal of international interest in recent UK initiatives. Whilst our system is not perfect, there have been many developments in Britain that we should celebrate and share with the rest of the world, and there is much that we can learn from the experience of principals in other countries."