?No? to business leaders becoming heads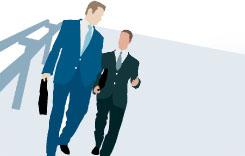 ASCL firmly rejects the notion - put forward in the media with the publication of the PricewaterhouseCoopers (PWC) report on school leadership - that business leaders can be brought straight in to run schools.

And contrary to many of the headlines, the PWC report also supports ASCL's view. It states that "the DfES should endorse proactively the possibilities around suitably experienced and qualified professionals (other than teachers) playing key roles on the leadership team in schools, up to and including taking lead responsibility for the school."
ASCL's view has always been that the person in the top job must have experience working in a school and he or she must have achieved the National Professional Qualification for Headship (NPQH).
However, not having qualified teacher status (QTS) should not deny a senior school leader the chance to apply for headship. "There are some outstanding bursars and business managers now working in senior positions in schools, some who would make excellent heads and principals," said John Dunford.

"This emphatically does not mean that people can be brought in from industry to run schools, but it does open up the possibility that the best of school leaders without QTS can come through to the top job."

The report has also recommended that the DfES consider "limiting the creation of unnecessary burdens on schools from its own policy development activities, and from those of other government bodies operating in the schools sector."

For more on ASCL's response to the PWC report, see John Dunford's article.