A butcher, a baker, a...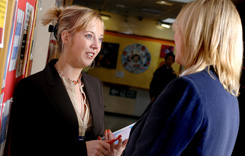 Horbury School's leadership team includes a personnel manager, business manager, network and ICT manager, three deputy heads and two advanced skills teachers. ASCL member Deborah Duncan explains how it works.
I arrived at my first headship post in Easter of 2005, just as the government was asking all schools to restructure their leadership and management and introduce the new teaching and learning responsibility payments (TLRs).
For me, it was a perfect opportunity to shape the leadership around current needs, rather than having historical management structures which are an anachronism in a 21st century school.
Prior to entering teaching, I worked in sales and marketing for a large brewery group. In a retail environment, there were finance directors with degrees in maths and business, marketing directors with a background in sales and plant managers who came from science and engineering. A modern school must be run both operationally and strategically like any medium to large organisation. Why, then, did we insist that everyone in the leadership group was a teacher?
Apart from the advent of business managers and bursars in some large secondary schools, most leadership teams were entirely made up of people with PGCEs and classroom experience. Many of these colleagues took on responsibility for buildings or personnel or finance - as I did as a deputy in charge of personnel issues - a far cry from our own experience.
Core team
When I arrived at Horbury School, it was the perfect opportunity to build a team of people with diverse but complimentary skills and backgrounds.
There is now a core team of six on the leadership team - in a school of 1,100 students - plus two advanced skills teachers who sit in on strategic meetings and contribute to raising standards of teaching and learning across all curriculum areas.
Each team member has responsibility for one or two strands of the school improvement plan, which is based around the nine learning gateways plus two additional strands: the community, and buildings and finance.
The business manager, Katie Stringer, oversees all areas of the building and finance. She also liaises with the contractors and architects in our £20 million rebuild programme. She has a degree in business and marketing and worked in the private sector before coming into education.
We have worked together on standard operating procedures and policies to make them more user-friendly for new staff and to make the school sharper and tighter in terms of efficiency.
Many schools now have business managers on the leadership team, which I believe is essential in a large school. Heads should not be immersed in the minutiae of day-to-day budgeting, although they need to know the financial position of the school, as any managing director would about his/her company from the finance director.
A good business manager can look for cost savings and bring in other funding streams, such as lettings and bidding for funds. The state sector has a lot to learn from the independent sector about the role of bursars, who very often handle turnovers of several million pounds as a matter of course and whose livelihood - not to mention the school's future - depends on excellent accounting, marketing and additional sources of funding.
Last year the school also appointed a personnel manager, Tracy Nash, who has a degree in sociology, qualifications in personnel and a background in human resources in both the private sector (retail and transport) and with the local authority.
She now handles all recruitment, staff welfare, capability and disciplinary cases, professional development, CRB checks, staff sickness and absence, and stress management. Her role is primarily to look after the staff and ensure that they feel valued, to make certain that recruitment is done fairly and legally and results in the best candidate for the job, and to hold staff to account when they do not meet standards.
Tracey hit the ground running in September and has settled in well. She says she is really enjoying the different facets of the job but is still amazed at the very fast pace of the school compared to other walks of life.
Technical support
The third leadership team member who is not a teacher is Steve Hall, the network manager and director of ICT. He comes from a background of technical support both outside and within education.
Modern schools rely heavily on new technologies; all our classrooms in the new school will have interactive whiteboards or e-beam facilities; we register and use Serco's e-portal system for our MIS; we all communicate by email; we have RM Tutor in our ICT suites and we are developing our virtual learning environment with Kaleidos software.
All of this is strategically important to the school, and as such should be represented on the leadership team. Steve works very closely with one of the advanced skills teachers, Stuart Cousins, whose knowledge of using interactive technology to enhance learning is second to none and whose record of excellent attainment using state-of-the-art and innovative technologies makes him invaluable.
Jointly, Steve's hardware expertise coupled with Stuart's software and teaching knowledge is a really powerful resource.
Responsibility for the curriculum and teaching and learning rests with deputy head Janet Mealing. She works closely with the other advanced skills teacher, Gill Spokes, who is responsible for specialist language college status and who monitors progress against our action plan in this area.
Gill will intervene with staff who are having difficulties, and coaches and team teaches with them. She also works in consultation with Tracy, the personnel manager, to look after NQTs. Tracy ensures that the administrative and personnel side of induction is taken care of whilst Gill observes them teaching and runs sessions on good practice in the classroom.
The two assistant heads come from teaching backgrounds and have responsibility, respectively, for data and assessment, and inclusion and behaviour; both are areas which I currently feel need teaching experience to be implemented effectively.
However, both of these colleagues have a significant number of non-teaching staff in their teams, including a data manager and a data assistant, an examinations manager, a behaviour and child protection manager, three pastoral support officers, several learning support assistants and community support officers.
All members of the leadership team do duties at lunchtime and most do call-outs when necessary. They have agreed to do this to be more of a team; the non-teachers have shadowed the teachers on the team to learn the skills and techniques. The business manager oversees a year group in terms of praise and support, a role she requested.
This team is truly a team. When I arrived they were called the senior leadership group. I believe that a 'group' suggests disparate individuals who all do their own thing. We are a team with a shared vision and a clear understanding of how our own role contributes to the whole.
We are all accountable to each other and to the staff, students, parents and governors. The curriculum and pastoral leaders are now called the middle leadership team as this strand of leadership is the life blood of the school. We are building their confidence and ability to lead from the middle.
Indeed, two of the middle leadership team sit on the SLT every year on a rolling programme as observers and contributors in order to increase transparency and contribute to succession planning.
Heads' role
The role of the head in large schools has to change if we want to survive. The head can no longer do everything from the budget to health and safety checks to personnel to teaching.
To have time to plan strategically, maintain a work-life balance, and remain effective, heads must delegate and promote distributed leadership, employing people who can do specialised and technical roles far more effectively and quickly.
This will leave heads with the time to oversee all areas of the school and ensure that self-evaluation procedures are successful.
ASCL is keeping up with the changing nature of leadership in schools. We currently have more than 400 members who are bursars, business managers and other non-teachers on leadership teams. We take every opportunity to promote their vital role in improving students' education and attainment.
I would like to see NCSL catch up with the times and offer leadership training for our non-teacher members. Leadership Pathways is excellent but is mainly for teachers.
Local authorities also need to stop making a fuss when schools want to pay non-teaching leadership team members a salary that reflects their skills and experience.
I am confident that as schools become extended and open for more hours, this model of leadership team, with both teaching and non-teaching backgrounds, will become more common.
Non-teachers want to have a career path and training opportunities too and there should be a route to leadership for them as there is for teaching staff. You never know, one day soon we may see the first non-teaching head.
Deborah Duncan is the head of Horbury School in Wakefield and ASCL's membership officer.