Time to take stock?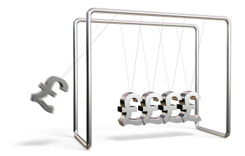 If you haven't used your ISA allowance for this tax year, stocks and shares ISAs could be an option well worth considering. But time is running out as the end of the tax year is fast approaching.
We are constantly bombarded at this time of year with financial opinions; what the best investments are, and what you should do with your money.
For many people, using their ISA allowance has shown good returns. But would an ISA be the right investment for you?
Although a good cash ISA can offer a tax-free rate higher than the average high street deposit rate, the returns may often turn out to be lower than equity investments held in a stocks and shares ISA over the period of the investment.
It's important to remember, though, that the capital is at risk in a stocks and shares ISA and it should be viewed as a medium to long-term commitment of at least five years. As a stock market-related investment, you are not certain to make a profit.
For instance, a £1,000 lump sum invested three years ago in the Invesco Perpetual Latin American fund is showing a current value of £2,634.49. But £1,000 invested on the same basis in the Gartmore US Bear fund is now worth only £709.99. ( Investment, Life & Pensions, Moneyfacts, November 2006)
You also need to keep in mind that the value of stocks and shares ISAs, and any income from them, may fall as well as rise. Past performance is no guarantee of future performance and investors may find they get back less than they originally invested.
Choices, choices
So how do you choose the best investments to build a balanced portfolio for your stocks and shares ISA?
It can be quite confusing as there are literally thousands of eligible funds, investing in different sectors from fixed interest securities to shares in small Japanese companies.
If you are thinking of investing in a stocks and shares ISA, it's helpful to obtain unbiased, professional advice, such as that from Frizzell's financial advisers.
The first step will be to determine these key considerations:
How long can you commit your money?

What are your investment objectives?

How much risk are you willing to take?

If a stocks and shares ISA is considered appropriate, your financial adviser will discuss the benefits and risks of this type of investment and run through the various fund options available for inclusion in your tax-efficient ISA wrapper and the amounts you are allowed to invest in any one tax year.
ASCL member offer
Until 31 March, Frizzell is offering ASCL members a special deal. Often there is an initial charge attached to a stocks and shares ISA, but for ASCL members, if a stocks and shares ISA is recommended and the recommendation is acted upon, Frizzell will give a 1 per cent reduction on the initial charge.
Where no initial charge applies to the recommended ISA this offer will not apply and there is no alternative offer.
This information is based on our understanding of current legislation and HM Revenue & Customs practice, which is subject to change. If the government changes the tax treatment of ISAs this may reduce the potential growth from the investment.
To learn more, contact Frizzell on 0800 982 289 (For Textphone: first dial 18001) Calls may be monitored and recorded.
By the Frizzell Financial Advice Team
---
Q&A
What is a stocks and shares ISA?
A stocks and shares ISA is not an investment in itself, but a tax-efficient 'wrapper' in which to hold your investments. No reclaims of tax can be made on dividend payments received within the fund.
How much can I invest in a stocks and shares ISA in a tax year?
Up to £7,000 can be invested in a maxi ISA or up to £4,000 in a stocks and shares mini ISA, provided you are over 18 and a UK resident.
How many ISAs can I have?
In any one tax year you can only have either one maxi ISA or up to two mini ISAs - one for cash and one for stocks and shares.
Is there a minimum investment?
No, however ISA providers can apply a minimum investment amount, and most investment funds do this. The amount varies from fund to fund.
What are the charges attached to ISAs?
These vary. Your Frizzell financial adviser will be able to advise you.
---
ASCL acts as an introducer to Liverpool Victoria Financial Advice Services Limited for advice on investment, life protection and pensions products.
Frizzell is a trading style of the Liverpool Victoria group of companies. Advice is provided by Liverpool Victoria Financial Advice Services Limited, registered in England No. 3027145, authorised and regulated by the Financial Services Authority and entered on the Financial Services Authority Register, No. 186890. Registered address: County Gates, Bournemouth BH1 2NF. Tel: 01202 292333. 63895 11/06.