Straight-talking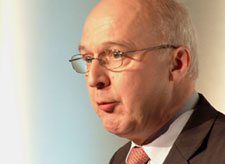 by Tim Andrew, SHA President
Annual conference is by a large margin the biggest single event in a SHA president's year.
It takes about 18 months to plan, has a very high public profile and includes the prospect of an occasion of undiluted terror for your elected leader: the presidential address to the association.
Members invest a considerable amount of time and money in attending annual conference and we want them to enjoy an event that informs and uplifts them.
By any standards this year's annual conference was a success.
Highlights included Greg Dyke's views on leadership in the public sector, Sir Ken Robinson on creativity, Yasmin Alibhai-Brown on the nature of global citizenship, and Keith Weller's gem of an after-dinner speech as he led us through an alternative history of qualification reform over the last 30 years.
There was also the launch of this magazine, which was very well received.
We certainly can't complain about the quantity of media coverage either, although the quality is something else. It was fascinating to see how the conference's reaction to the Secretary of State became front-page news.
On the platform, we could see that she was not winning the hearts and minds of SHA members. The tone of the questions from the floor, as much as their content, made it clear that we had not been convinced.
There was some muttering in the audience and an audible groan when we were told that we had enough money from workforce re-modelling to pay for the smaller classes that the Secretary of State said we should be providing.
The journalists present were among the audience after she had finished, and clearly some members were pretty scathing. On the other hand, the audience observed the usual SHA courtesy to speakers and applauded at the end, in sharp contrast to one Secretary of State about ten years ago who was heard in stony silence.
Quite how our reaction turned into headlines the next day that made it look as though we had barracked her like an unruly football crowd is a mystery. The headlines were unfair to Ruth Kelly and to SHA.
It cannot be denied, though, that the Secretary of State's speech and answers to questions were disappointing to the SHA audience.
There was no attempt to explain why the government had rejected the Tomlinson recommendations, to which SHA had contributed so much over the last 15 years.
There was little recognition of the role that SHA had played in developing the New Relationship with Schools and the new inspection system and no mention of the way in which SHA is promoting personalised learning.
Above all, delegates were unhappy that the Secretary of State talked over our heads to the wider audience of parents and that her speech ignored the good work many schools do, the resource implications of what was being said and the balance of rights and responsibilities of parents and schools.
There is no doubt that the government's response to Tomlinson has disappointed us deeply.
We believed a favourable consensus on them, including government, had been won. The lesson for us is perhaps how very centralised on Number 10 major education decisions have become.
Tomlinson is a setback, but we shall want to continue to have dialogue with the government. There is much that we want to influence and many policies that we agree with in principle.
The government needs our expertise as school leaders on how these policies can best be implemented.
After our conference, some newspapers appeared to be trying to de-stabilise the Secretary of State. As a politically independent association, SHA wishes to be dissociated from that.
One badly received speech three months into office hardly seems grounds for de-stabilising, but our media are in febrile pre-election mode. SHA, as always, will be playing a much longer game.
We look forward to working with the Secretary of State as constructively in the future as we have done with her predecessors in the past.