Q & A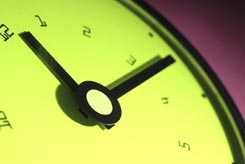 Q
I started my post in September and since then have been reviewing all our school policies. Some of them haven't been updated in years, although they're not necessarily out of date. How often do school policies have to be renewed?
A
In the first instance, they have to be renewed when new statutory guidance has been put into place. The difficulty is that the guidance may come from a number of sources.
Secondly, there are policies which change in the light of the school's decisions, planning and aims and targets.
It is good practice for every policy to state a review period and date in the calendar - which will vary depending on the type of policy - so that a specific named person or group has the task of making the check.
In some schools a leadership team member and/or a governor (or governors' group) has a timetable for policy review and updating.
There also needs to be a system in place to ensure that new legislation and guidance is received, processed and the implications for school policy considered.
The guidance produced for schools by The National Archives in relation to Freedom of Information includes very helpful sections on record keeping, record maintenance and record disposal.
The document can be downloaded from www.nationalarchives.gov.uk/policy/foi
Q
How long can our headteacher direct staff to do duties before, during and after school?
A
It is important to remember that teaching staff (anyone not on the leadership scale) cannot be directed to do duties during their lunch breaks.
It is reasonable and normal to expect staff to perform duties before and after school to ensure the safe arrival and departure of pupils for up to 10 minutes.
This obviously has implications for deciding when pupils are allowed to be on site and who is responsible for them when they are.
If the school also has a daily briefing, the time factor needs to be taken into account. It may be necessary to have a rota so that only a small number of staff are on duty while the briefing takes place.
Q
A member of the leadership team at my school has decided to step down and will be employed as a teacher. Which post-threshold allowance is she eligible for?
A
The leadership team member who is stepping down is automatically eligible for UPS 1. The governors can decide to pay both UPS 2 or UPS 3 if they decide that there is evidence that the teacher meets the criteria for those levels.
Q
I am an assistant head on point 8 and with a pay range from point 8 to point 12. I've recently found out that the head of maths is on MA 5 and is paid more than me. I have pointed this out to the head and suggested that this is unfair. However she doesn't seem to want to give me a pay rise...
A
Your pay range is set by the 'relevant body', usually the governing body, not by the head. It should be set so that the bottom point is no lower than "the salary of the highest paid classroom teacher".
In reality this salary is not the actual salary of the highest paid classroom teacher, but calculated by assuming that that teacher is on UPS 1 (even if they are paid more than that).
So in this case the salary to compare with is £29,385 (UPS 1 outside London) plus £10,572 (MA 5) for a total of £39,957 (if the person had a SEN allowance you could have added this too).
The next highest point on the leadership spine is point 10 (£40,242) so your pay range should be no lower than points 10 to 14.
Ask your head to point this out to the governors. You could also refer her to School Teachers' Pay and Conditions Document paragraphs 12.3, 15 and 16.
Call time on cover periods
Q
In our staff timetables for next year, I have some teachers who still have 'spare' periods which have not been allocated. Under the workforce agreement, what am I allowed to do, or not do, with these periods? Can I still ask those teachers to do cover in unallocated time?
A
In the past, a school would often use that teacher for cover. Since the workload agreement, the aim is that by September 2005 staff will "rarely cover at all".
Until that time, any cover will count towards a maximum of 38 hours for the year (or whatever the lower maximum is, agreed in the school, based on pre-workload practice).
From September, schools should have included the minimum 10 per cent PPA time in teachers' timetables. The guidelines suggest that it would not be appropriate to use any unallocated periods as cover periods for particular staff.
Cover supervisors should be used for planned absences and schools are appointing staff with cover as their remit. We are waiting for further WAMG guidance about the circumstances in which staff can still be used for cover.
It is therefore better to direct staff to tasks which make good use of their professional expertise. 'Spare' lessons maybe used for teaching or SEN support.
Some schools have decided to create smaller groups or specialist groups; others have identified pupils who need particular attention; there are schools where new topics or subjects can be offered by teachers.
Heads are within their right to make reasonable directions and assign staff to particular duties.