Project Sri Lanka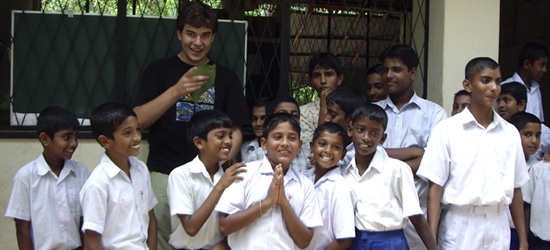 The scenes of devastation and loss of life which we witnessed on our television screens on Boxing Day 2004 meant that many of our students returned to school or college in January 2005 asking what they could do to help.
The students at Walton High School were no exception and a group came to see me soon after the beginning of the term. As vice-president of the association, I was also conscious that headquarters was receiving similar phone calls from members asking advice about where to direct the funds their students were raising.
From that was born the Sri Lanka Project which has run for the last two years, 2005-07. It soon became obvious that our students wanted to do more than simply raise money and so the project developed three strands: fund raising to help schools and young people in Sri Lanka, arranging for groups of students to visit Sri Lanka and undertake community work in schools and, thirdly, building longer lasting links with Sri Lankan schools.
The project raised £77,330, which has been used to refurbish schools, purchase new furniture and equipment and to provide a swimming pool so that Sri Lankan children can learn to swim and conquer their fear of the sea.
This amount of money can achieve a lot in Sri Lanka and the projects employed local workers and used locally sourced materials. Adopt Sri Lanka, the charity with whom we worked, has provided contacts through the 'Sri Lanka Twins' programme and many British schools are now twinned with Sri Lankan schools.
World Challenge has supported the community projects and, following a very successful pilot scheme in 2006, 14 more groups went to Sri Lanka in summer 2007 and completed a wide range of projects, mostly in schools.
These students came largely from schools and communities that would previously not have taken part in such activities and the experience for all of them was life-changing.
My own school had never been involved in World Challenge or similar activities but, following two trips with Project Sri Lanka, other students have been so inspired that they are busy preparing for Project Uganda in summer 2009.
Many thanks go to the ASCL staff and the committee who supported this project and to Adopt Sri Lanka and World Challenge Expeditions who worked together to make this project so successful.
I would also like to say a particular thank you to Tony Thornley who donated the entire proceeds of his ASCL publications on inspection and self-evaluation to the Sri Lanka project. It's good to know that members' angst about completing the SEF has had at least one positive result!
The value which this project has added to the lives and education of both the Sri Lankan and British students involved may be more difficult to measure than CVA but is likely to have as profound an influence on their lives as the results they gain.
Sue Kirkham,
ASCL President 2005-06