Beware the news hounds!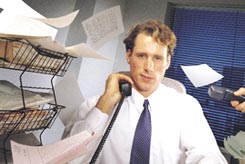 If you lie down with rats one day they will bite you. I know this to be true.
Don't get me wrong. I like journalists. They have ideals and they want to make things better. But I don't trust the media.
Because, by trying to raise a professional issue in a professional forum, I suddenly found myself dragging my school's reputation through the mud.
It started when it came to our attention in school that a couple of girls had been posting intimate pictures of themselves on the internet.
When we consulted the police, they said that it was not unusual but that schools usually did not confront internet abuse. Schools didn't relish the bad publicity. It suggests poor guidance.
Foolishly we decided that we would raise the issue. I spoke to friends in the educational press and they ran a piece about it. Seemingly innocent behaviour - dancing about in front of a mirror, wearing underwear - has gone on for years.
It was just young girls copying a pop video, except that now they use a webcam and send it to their mates. Once it is out on the internet, that picture could be put to any number of unsavoury uses.
Children are vulnerable in the place where they feel most secure. We thought, let's educate parents; let's get the internet out of bedrooms and downstairs where it is less secret.
It was a good article with responsible journalism. The police were delighted and our professional duty was fulfilled.
Except I had forgotten that sex sells. Like those intimate pictures, once the news was out there it could not be controlled.
The story was picked up by the BBC. They got my number from the phone book. I refused to join a discussion programme, but they ran the story anyway.
Suddenly the phone in the school office was red hot. Naively I thought I could discuss the problem with the reporters who called, but I hadn't a hope.
An important message was suddenly much less important than the details of a couple of girls prancing about in front of a camera.
Suddenly the school was under siege. Our local newspaper ran the story under a headline "Topless Teens." Where on earth did that come from? It was complete misrepresentation.
That day was unusual. Reporters were stopping the cleaners asking about boys selling their bodies on the internet. Deliberate misinformation I presume, designed to elicit a response. But few in school had known anything so there was little that could be revealed.
Throughout the weekend there were reporters inside the grounds of the school, taking photographs of buildings and stopping passers by. Why were they there? Does the issue of internet safety really require such intrusion? Of course not. They were writing a different story.
I spend my days with stroppy teenagers, but tabloid journalists are in a different league - persistent, single-minded, manipulative.
All the way through a desperate weekend I tried to clutch at the truth - that children in our schools were innocently putting themselves at risk - but the truth was a single stick spinning in a swollen river of smut.
"This is terrible. Something should be done. By the way, what was she doing with the whip?"
The storm passed just as suddenly as it had arrived. The Sunday papers did a few inches about us on their inside pages but we were not peddling the sort of detail they were interested in. We were yesterday's news.
When it was over I felt dreadful. I had put many people to lots of extra work, in the school office and down in County Hall. Parents and governors were alarmed. Not even my hardest cases wanted people to know they were pupils at "the school for slags".
Had we acted responsibly or irresponsibly? No one was quite sure anymore. I wrote letters of apology and retreated to the classroom where things seemed so much simpler.
Was the issue addressed? Of course not. The real message was lost. Internet safety is important but it is apparently less interesting than trying to find out what colour handcuffs might or might not have been involved.
So, what should we do if we uncover something important? Speak out and run the risk of being hounded and misrepresented? Or shut up and wait until someone more stupid is prepared to raise their head?
I know what I should do. I know what my professional responsibilities should be.
Would I do it again? Of course not.
By Geoff Brooks, deputy head of Cefn Hengoed Comprehensive School, Swansea. He has written for the TES and the Independent.