Positive spin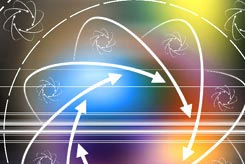 I arrived home late on Thursday, following a student review evening at school, to find a note my daughter had left me before going to bed: "Daddy I miss you".
By Adrian Hall, assistant head of Hodgson High School Technology College, Poulton-le-Fylde, Lancashire
After the initial feelings of guilt, I was able to put things into perspective and conclude that actually I do have a reasonable work-life balance.
I'm a 35-year-old assistant head in charge of teaching and learning and school self-evaluation, at a mixed-sex 11-16 comprehensive with 1,160 on roll.
I am married with two children: a five-year-old daughter and a four-month-old son. As with colleagues across the country, it is not always easy to juggle work and home life.
There are several factors that help me keep my perspective, however. Perhaps the biggest influence is my head: he is a hard-working and inspiring leader who still manages to not only maintain a decent work-life balance for himself, but also insists on it for his staff and his leadership team.
Leadership group meetings start in school time and are guillotined at 4.30pm prompt; any outstanding business is dealt with at occasional early morning meetings (8-8.30am) or at mutually convenient times during the day.
The head's attitude is definitely important, as it reduces any feelings of guilt I might have if I leave work at 4pm to collect my daughter from after-school club.
As a head of maths, I used to work hard planning lessons, marking books, monitoring assessment records, developing the department and so on, but I found that most of these jobs were finite. There were occasions, in fact, when I had completed everything on my to-do list.
Now, as an assistant head, I still have lessons to plan and books to mark, but in addition there are whole-school initiatives that need driving, staff that need coaching, incidents that need fire-fighting; my job list is never empty.
I used to worry that I wasn't getting everything done that I ought; but I've learned to accept that this is the nature of a job on the leadership team.
Some things do have to wait, some jobs don't get done, and I have to be stricter and more ruthless when prioritising.
Strangely, though, I think my work-life balance is better now than it ever has been; partly due to experience, partly due to my head's attitude, but in no small part due to the fact that I'm enjoying my job more than ever.
Being responsible for teaching and learning, although initially a scary prospect, is exciting and rewarding.
The vast majority of students at our school are very likeable young people. Whenever I have to deal with poor behaviour, or some time-consuming, mundane incident, I'll make a real effort to go on a walkabout and chat to some of our students. Ten minutes of this, and I feel refreshed and re-inspired.
I've also realised that it's not always about actual work-life balance, but sometimes about perceptions.
Accentuating the positive, reflecting on the good things that have happened, the progress we're making as a school - again, something my head is really good at - can alter which way I feel the balance is tipping.
It's easy, after a bad day, to go home and dwell on matters well into the evening, hijacking any quality time with my family.
But what is a 'bad day'? Almost always there's something positive, even if it's just that I've learnt how I need to handle things differently next time.
And if not, it's possible to create one: I'll tell a student on report card how proud I've been of them this week; I'll give some positive feedback following a lesson observation; I'll write a memo to a department head thanking them for their input on a school development day.
This can really improve my outlook on the whole day, and as a result I enjoy the evening and family time more. I've tipped the work-life balance scales back in my favour.
I'm a naturally optimistic person anyway. A good friend once told me there are two types of people in the world - radiators, who give off positive energy, and drains who suck it all into a black hole.
I try and surround myself with radiators - I'm lucky that there are plenty of them at our school - and consequently I continue to love my job. And if you love your job, work-life balance really isn't much of a problem at all.