Message requires special delivery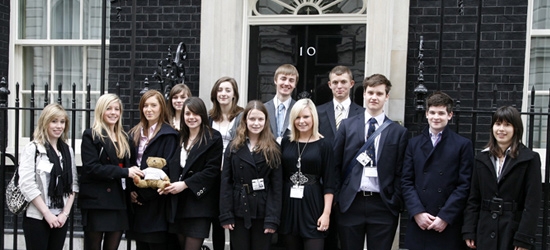 With a general election approaching, giving young people a voice in the political process is more timely and relevant than ever. The Write Now writing competition, supported by ASCL, encourages students to think about their views on a policy issue and to practice their persuasive writing skills.
---
Students in years 12-13 were asked to imagine that the prime minister 's youth policy adviser has asked them to devise an effective media campaign to promote a more positive image of young people. Char lotte Gregory had the overall winning entry for this category.
Prime Minister: Your youth policy adviser has asked me to devise an effective media campaign to promote a more positive image of young people. In preparing this, I have asked three fundamental questions, to ensure that the campaign has a focus and a rationale, with a very clear goal.
The first question is:
Why is a campaign needed to promote a more positive image of young people?
I believe that this has to do with both the perception and the reality. Media coverage today creates the impression that society is breaking down - that young people don't respect property; the environment; or other people, whether they be the older generation, teachers, people of different racial or ethnic backgrounds or even their own peer groups. It seems that young people are not prepared to work hard, either in school or in the workplace, and are not prepared to make a positive contribution. Yet, the role of young people is critical in building a better more equitable society.
We know however that this perception, created by the media, is not correct. It is based on widespread coverage of isolated incidents. Whilst we know that testing boundaries and challenging the accepted way is part of growing up, and indeed is vital in delivering change, we also know that the vast, vast majority of young people do this, while continuing to play a positive role.
In addition, we all know young people - the 'quiet' or 'unsung' heroes - who are making exceptional contributions. Unreported, and unseen except to those who directly benefit, these contributions do not make the headlines. Yet, without them, our communities would be the poorer. It is clear therefore that, by harnessing such examples, an effective media campaign can do much to re-dress the perception that the media has created.
The second question is:
Who is to be target of this campaign?
I believe there are two target audiences - the older generation, and young people themselves. Why two audiences?
Firstly, a positive image of young people needs to be established and reinforced with the older generation. We have all seen the media images of old people being intimidated in their own homes by gangs of youths, and the streets becoming 'no-go' areas for them. Yet, with increased life expectancy and an increased proportion of the population being over 65, our population is ageing. We are fighting 'ageism' to ensure older people are not sidelined, and that they have the opportunity to continue to make a positive contribution to society, so we cannot allow this perception to continue unchallenged.
Equally we have to recognise that if such situations do arise, where young people are threatening people in their homes or on the streets, it must be dealt with through effective policing and justice, so this campaign cannot be seen in isolation. The media coverage of young people to date has created prejudices amongst older people against youth - 'Youthism!' The campaign therefore will seek to address these prejudices, with the additional benefit of helping older people to feel more secure at home, at work and on the streets.
Young people themselves are the second target audience. Why? Because young people are the future. Their attitudes and behaviour are critical in determining the future 'feel' and direction of our society. The campaign can be used to raise awareness of the activities and achievements of many of our young people, essentially using examples and peer pressure to encourage other young people to recognise the opportunities and get involved in similar beneficial activities.
The third question is:
Who should deliver the message?
To answer that, it is important to understand who each of the target audiences will respond to. Older people will generally listen to, and take more seriously, messages delivered by other adults - particularly those people who can speak knowledgeably on the basis of their experiences. Similarly, young people will tend to listen to other young people, but particularly those they recognise as having achieved something, whether it be in the music industry, in business, or in sports.
The media campaign therefore will seek to identify 'ambassadors' for young people, in both the younger and older generations. Their role will be to put across a positive image of the youth of today, based on their own experiences and knowledge. These 'ambassadors' will be at a regional level and a national level, to complement the levels of coverage in the media campaign. They will be selected because of their ability to relate positive experiences of young people.
At the national level, the focus will be on high achieving young people, to highlight what can be achieved through commitment, dedication and enthusiasm. Examples will include: Lewis Hamilton (Formula 1 - the youngest ever world champion); Mathew Tait (rugby - selected to represent England at 18); Theo Walcott (football - selected as a member of the England World Cup squad at 16); Tom Daley (diving - selected for the Team GB in the 2008 Olympics); and McFly (pop band - one of the Uk's leading acts).
Key elements to bring out will be not only the success of these young people, but also the role of their families and sporting community to support them during their formative years, and most importantly what they now do, to give something back to the sport and wider society.
At a regional level, the focus will be on the 'unsung' heroes - those young people who quietly do things that make a difference. The stories need to be told primarily by the older people, the 'ambassadors' who benefit from their activities. It may be work of wider or strategic importance - such as the Young People's International Development Committee set up with Save the Children (NI), and the Youth Council for Northern Ireland, set up by Belfast City Council- or of very real practical benefit - the young people who take on caring roles, who give up their time to raise funds for charities, or who visit old peoples' homes and hospices.
The overall objective of this approach is to create a network of ambassadors for young people across the country, and encourage anyone and everyone to become 'ambassadors', although potentially not recognising it, by 'immersing' them in the stories and encouraging them to highlight to friends, families and colleagues the fabulous things that young people do willingly, and from which others benefit.
The media plays a significant role in today's society, influencing people's opinions and behaviour. The campaign therefore needs to make use of the full range of media tools to effectively communicate the message to the target audiences, as young people and older people will each use the media differently. It will make use of television and radio, newspapers and magazines, and the internet. As the media affects every single one of us, we can use each of these areas in different ways, tailored to the target audiences, to improve the image of young people.
(The essay goes on to specify a timeline and tools for delivering the campaign.)
Charolotte Gregory, 18, is in her final year at Victoria College, Belfast. She was one of 15 regional winners who went to London on 3 March to visit Parliament and Downing Street. The students met Cabinet Minister Liam Byrne, Secretary of State Ed Balls, the Speaker of the House Michael Martin and MPs from their local constituencies.
---
Write here, write now?
In this pre-election year, would students in your school or college benefit from a trip to Parliament and Downing Street, to meet with MPs, ministers and leading political journalists and learn more about the democratic process?
The Write Now writing competition is open to students in years 10-13 (S3-6 in Scotland) in all schools and colleges in the UK. ASCL is pleased to support this worthwhile competition and we would encourage members to alert relevant staff and encourage students to get involved.
The competition has been used in past years as part of leadership projects, gifted and talented programmes, and as a whole-class exercise in English, citizenship and media studies.
The competition is run by the Parliamentary Press Gallery and sponsored by Dods. Reasonable travel costs to London, and overnight accommodation if necessary, are provided for the regional winners and the parent/guardian or teacher accompanying them.
Topics for the 2009-10 competition will be announced in June so watch for the ASCL email newsletter or visit www.writenow.org.uk for details. The deadline for entries will be in November.