Freedom for all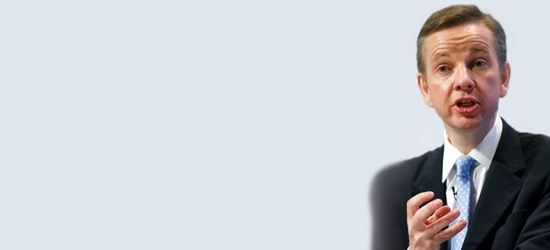 Schools free of political interference, employing the very best teachers, better equipped to help children from the poorest backgrounds and accountable to parents for behaviour and standards are at the centre of Conservative education policy, insists Michael Gove.
The very best schools, in this country and abroad, have shown that children can come from damaged backgrounds, burdened with low expectations and handicapped by a lack of stability at home, and they can still succeed.
Schools such as Mossbourne Community Academy in Hackney, the Harris group of academies in south London, the ULT academies across the country, ARK academies such as Burlington Danes in Hammersmith and the original city technology colleges (CTCs) such as Haberdashers' Aske's Hatcham in Lewisham and Brooke Weston in Corby are comprehensives in working-class communities, transforming the lives of children who were once forgotten.
These excellent schools have many qualities but I believe there are two crucial ingredients to their success: the freedom which allows school leaders to offer dynamic and innovative leadership; and the high-quality teaching staff which gives pupils of all abilities the opportunity to maximise their potential.
I want to place these two ingredients at the heart of Conservative education policy as we lay out our plans to radically improve Britain's school system and make opportunity more equal.
Charter schools
Across the globe, the countries most anxious to drive up standards - especially for the poorest - are energetically pursuing a reform path which gives schools, and heads, more autonomy.
In Scandinavia, Australia and America the pace of reform is quickening. President Obama has made clear he wants to see the sorts of school freedoms enjoyed by the best charter schools used more widely to improve standards. He's massively increasing federal funding for charter schools such as those run by the Knowledge Is Power Programme (KIPP).
KIPP schools have shown what is possible when schools with inspirational leadership are given the freedom to innovate and succeed. Schools within the KIPP family have opted for a variety of innovations: longer school days, compulsory after-school activities, educational trips and mnemonic devices for learning. Whatever the different range of innovations chosen, all KIPP schools have one thing in common: remarkable success in areas where schools had failed before.
Similarly, in this country the government's academies programme has shown the transformative effects a school with dynamic leadership, free from central control, can have on even the poorest areas.
That's why we have outlined plans to give the best of our comprehensive schools the chance to free themselves from bureaucracy to enjoy full academy freedoms. We want academy freedoms to become the norm for state schools.
We want to see independent state schools accessible to every community, open to all but committed to excellence, free to pay good teachers more, free to innovate, experiment and drive up standards, and free to develop the discipline and behaviour policies which are the foundations of good learning.
In parallel with these additional freedoms, we would ensure a much better level of alternative provision for children who have been excluded. We are working with a range of organisations to ensure that children have the sort of intensive care and support they need to get their lives, and learning, back on track.
Heads would be able to drive up standards by having a crucial freedom cherished by independent schools: the ability to vary the syllabus, enrich the curriculum and choose the best international exams for their students.
State school heads would have the same opportunity as their private sector counterparts to choose exams such as the IGCSE (International GCSE) or International Baccalaureate. Heads will be able to commit more time in the curriculum to English, maths and history if they choose to do so, or to offer pupils the chance to take the separate sciences at GCSE.
These additional freedoms would be available to schools with one rider: School leaders would have to pledge that they would use their additional freedoms to help other schools improve. Greater autonomy, in the context of deeper collaboration, is a cause which ASCL's General Secretary, John Dunford has passionately championed. And it's that goal which lies at the heart of our policies.
Pupil premium
Our commitment to greater freedom for professionals springs from our conviction that professionalism is at the root of a successful schools system.
You don't need to be a policy genius - you just need to be a concerned parent to know that the secret of a good school is great teaching. Getting talented people into the classroom is the best way to improve the education all our children receive. From Finland to Singapore the highest performing education systems are those with the best teachers.
We want to focus relentlessly on teacher quality, giving heads much more power over budgets so they can reward great teachers better. All schools should have the freedom over pay and conditions currently enjoyed by academies. Schools should be able to pay bonuses and attract and keep specialists - especially in maths and science and especially in the poorest areas with the worst problems.
One of the big changes a Conservative government would introduce is a pupil premium which explicitly gives extra resources to children from poorer backgrounds so the schools which teach them have the cash they need to offer additional support.
Under our plans, teachers will also be given the chance to progress further academically, just as they are helping their students to deepen their knowledge of and love for their subject. So we will make it easier for teachers to pursue higher level qualifications, such as a master's and doctorate, in their chosen subject.
We've also been inspired by how Teach First has attracted some of the top graduates into teaching. We want to go further. We want to create Teach Now which would significantly expand the number of highly qualified people leaving other jobs for teaching.
School freedoms and better teachers are therefore central to Conservative education plans. We want to see far more academies, independent of political meddling, springing up. We want to see schools more accountable to parents for behaviour and standards. And we want to see far more top graduates going into teaching so that all children get the chance to have a great teacher.
The motivation for these reforms will always be helping the poorest. We are utterly determined to focus our policies on all those who are deprived of aspiration, deprived of opportunity, deprived of hope.
And it's because we believe background should not be destiny - that being born into disadvantage should not mean being deprived of a future - that we want to free schools and teachers to spread opportunity more widely.
Michael Gove is Shadow Secretary of State for Children, Schools and Families.