Stacks of ability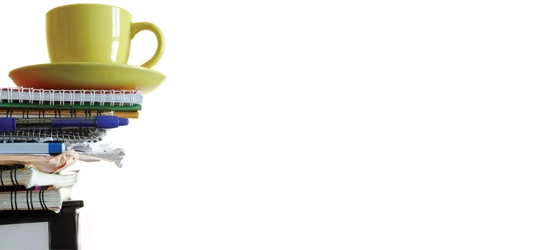 Caterer, mind-reader, recruitment consultant and estate agent... just a few of the day-to-day duties required of a headteacher's life support system, says Andrea Hollingsworth.
A typical day in the life of a headteacher's PA - where do I start? The morning cup(s) of tea, the psychic reading into the head's whereabouts for the day (or week if I'm lucky) or the organisation of my actual work? Let's start with the tea:
8.30am: cup 1, strong with a little bit of milk

8.35am: cup 2, strong with a little bit of milk

8.40am: get your own I've got work to do!
To be fair, he does know how to fill and turn on the kettle and occasionally even makes me a cup of coffee.
I can definitely say my job is varied. From the one line at the end of my job description which says 'any other reasonable duties' I could honestly create another job description.
Among the day-to-day tasks of diary checking to make sure he's remembered he's teaching that day, to the telephone calls from parents demanding to know why their child has been refused three weeks' holiday during term-time to go on a cruise, to organising lunches and meetings, I somehow fit in the daily admin tasks.
To survive as a headteacher's PA, the best advice I can give is that the ability to multi-task, mind-read and remain very open-minded are essential. Staff see you as the fount of all knowledge. Do I look like I know how much a first-class stamp is, why the buses haven't arrived or where the head has gone while he has a few spare hours in his busy day?
Summer term brings the recruitment process: advertisements, job packs, updating the website and reading the application forms. I do wonder if some applicants actually read the job description and person specs.
In my experience, first impressions are usually accurate and I've always said we should make supplying a photograph compulsory - I'm sure the whole process would be a lot easier. On the day of the interviews, I tell them who to employ the minute the applicants walk through the door. Why waste the whole day interviewing?
My job is to attend the safer recruitment interviews with the head. After four years of doing it, I'm always reminded of the section of the Miss World contest where contestants are asked what they would like to do in the future. The answer is always "to work with children" or "save the planet".
These are a few of the questions we ask each and every candidate along with the typical answers:
Q :What did you see on your tour of the school?
A :Classrooms, students... (Observant or what!)
Q :What do you do out of school?
A :Walking. (Yeah right. They're trying to make out they are extremely fit and active.)
Q :What makes you laugh?
A :Students and funny TV programmes. (I can bet my wages on this one.)
Q :What was the last book you read?
A :Er... (I'm still waiting for someone on my wavelength to answer OK or Heat magazine.)
Sometimes we do get original answers and this is when I stop looking out of the window and take notice. These are the candidates who normally get the job.
Not all of my jobs relate directly to the school. Doubling as an estate agency for instance; have you any idea how hard it is to find a four-bedroom detached property for a set budget in Derbyshire?
However, one thing I can recommend - should the head ask you to arrange a hair appointment, book him in with Edward Scissorhands. It worked for me and, not surprisingly, he never asked me again, although I don't think his partner was too pleased. Apologies were sent.
Oh, I shouldn't forget catering duties - there has been a time when I've made him a sandwich at home while on my own lunch-break.
Back at school, it's the students' break and time to monitor behaviour and unwanted visitors. I've told him before, I'm not daydreaming out of the window - it is constructive observation and my duty to ensure that he gets his gentle daily exercise down to the school field.
I'm sure sometimes he isn't aware of how busy I can be. I've got letters to type, personnel issues to sort, contracts to issue, exclusion letters to send, online shopping to sort out (mine, not his).
Half-term is the most productive time - peace and quiet. I love working the holidays. I actually manage to order my shopping in time for a Friday delivery.
So is there a typical day in the life of a headteacher's PA? No. Would I change a thing? Probably not!
Andrea Hollingsworth is PA to the headteacher at Swanwick Hall School, Derbyshire.
---
Want to have the last word? The Last Word always welcomes contributions from members. If you'd like to share your humorous observations of school life, please email Sara Gadzik at leader@ascl.org.uk ASCL offers a modest honorarium.