Rebuilding paradise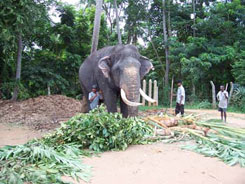 SHA member schools have already raised £15,000 for Project Sri Lanka. Sue Kirkham tells about her visit to Sri Lanka over the summer to view progress and set up the first projects.
On 20 August this year, I found myself traveling down a bumpy road in Sri Lanka, from the capital Colombo to the costal city of Tangalle along with SHA registrar Carole Baldam.
It reminded us of a war zone - very few areas have been cleared of damage from the tsunami. People are still living in tents and wooden shacks, although some of them had obviously pitched their tents next to their damaged homes in order to be near the rebuilding.
The damaged train where 2,000 people lost their lives is still there and many broken bits of boats were still visible. We passed a school where 250 pupils were killed. It was going to be an intense five-day visit.
My journey actually started last January when, as in many schools across the country, the students at Walton High School started raising funds to support the tsunami victims.
They soon realised that the immediate relief effort was coming to an end and felt that they would like to do something to support young people in Sri Lanka longer term.
In discussion with them I developed the idea of a SHA project for Sri Lanka. SHA had previously run a very successful Campaign Namibia but this was coming to an end.
Project Sri Lanka would run on similar lines including fund raising, twinning of schools and joint community work involving Sri Lankan and British students. SHA members were enthusiastic and funds started arriving even before we had launched the appeal.
Adopt Sri Lanka
It proved more problematic to find an aid agency willing to support our project and it became apparent that the large agencies would not be able to guarantee the sort of close links with schools which we wanted to establish.
We were pleased therefore to discover, through Rotary links, Adopt Sri Lanka, a small charity working in the south of the country, which suffered the worst of the tsunami.
Our trip to Sri Lanka for a week this summer was to meet the people on the ground, visit the schools concerned and check that our money would be put to good use.
We are grateful to World Challenge Expeditions for sponsoring the visit as we wish to put all of the money raised straight into schools.
The visit was both depressing and uplifting - there are still many damaged buildings, refugee camps and Red Cross water tanks - but we were heartened by the smiles and greetings of local people and the dedication and commitment of the many volunteers we met, both local and international.
Everywhere the school children were beautifully dressed in white uniforms, despite the poverty, and were all bright and lively.
Initially we imagined using our funds to rebuild a damaged school but the reality was not quite so simple. Few schools have been completely destroyed but many have been damaged.
Many have been closed and used as refugee camps; others have double numbers as they accommodate displaced children from the coast.
Basic essentials
We were also shocked by the poor accommodation of many of the schools in the south, even those that had not been damaged, which lack basic essentials.
We visited a residential school for the deaf at Tangalle where there is one shower for 100 children and very few toilets, which don't flush. There is a further water supply problem.
The children each have a single bed but nowhere to put their belongings and the social area was completely empty. All the children who go to this school come from the south region so as well as being deaf they have to contend with the trauma of the tsunami.
At several schools we visited in that area, we distributed small gifts to the children donated by English students and by SHA staff. It was a sobering moment when one principal quietly asked if the teachers could each have a pen too, as some of them lacked even this basic tool.
Adopt Sri Lanka had contractors already working in this area and we were able to discuss with principals and teachers at several schools what they needed.
We were happy to allocate the first £15,000 of our funds to very worthwhile projects in four schools in Tangalle.
These will include refurbishing a hostel, renovating classrooms, providing toilets and a proper water supply and purchasing tables and chairs for a school which had lost all of its furniture.
Adopt Sri Lanka also has a policy of employing local people and using locally purchased materials, thus creating much needed employment.
Our next project is to raise £4,000 to complete a partially built classroom block at Mandaduwa School and provide furniture for it. Funds to finish the new block ran out 12 months ago and the students are crowded into two classrooms, 60 to a room.
The grounds are like an unfinished building site, with no proper paths or steps and only a small playground. Children range in age from 6 to 16 but the numbers in the 16 year-old classes were very small. We were told that because most of the pupils are very poor, they have to drop out.
---
Twinning schools
Adopt Sri Lanka and the British Council are both arranging for British schools to become twinned with Sri Lankan schools in order to foster longer term links and develop mutual friendship and understanding.
SHA members need to note that few teachers speak English, few schools in the south have computers or internet access and even where they do, electricity supplies are intermittent.
However the teachers and students we met were very keen to make contact with British schools and all wish to improve their English.
People are also eager to tell their stories of the tsunami and the children have been encouraged to draw pictures of their memories. Survival has been the priority but the need for the children to make that emotional recovery is evident.
During our visit we also investigated opportunities for hands-on projects for our students who go out to Sri Lanka with World Challenge Expeditions in 2006 and 2007.
Some of these will take place in the schools we are helping to rebuild and they will be working alongside Sri Lankan students, learning about their way of life and forging lasting friendships.
This will be challenging as living conditions in this area can be basic and water and electricity supplies are still not good.
On the other hand we were very impressed with the fortitude and resilience of people who have lost the little which they already had and their enthusiasm and respect for education.
Our students will learn as much as they are able to give.
Sue Kirkham is SHA president and head of Walton High School, Stafford
Get involved by twinning
SHA has identified two opportunities for British schools to twin with schools in Sri Lanka.
Adopt Sri Lanka has started a twinning programme with schools in the south of the country that were most affected by the tsunami. The aim is to raise morale and develop long-term friendships between pupils and staff. Schools are twinned according to religious denomination, age of pupils and other criteria.
British twin schools also raise funds for their partner schools. Adopt Sri Lanka carries out a needs assessment with the Sri Lankan teaching staff and ensures that donations are spent prudently. The British school is actively involved in the spending process and Adopt Sri Lanka stresses that its staff take a culturally sensitivite approach. For details visit www.twinssrilanka.com
The British Council is running a more formal twinning programme based around curriculum projects. In order to take part, the Sri Lankan schools must deliver some of the curriculum in English and teachers must be able to communicate in English and use a computer.
The British Council programme encourages three-way partnerships with the UK school, a tsunami-affected school and a non tsunami-affected school. Visit www.britishcouncil.org/globalschools.htm or contact deepthi.wijesinghe@britishcouncil.lk
How you can get involved
Contact SHA about raising funds for Project Sri Lanka on 0116 299 1122 or carole.baldam@sha.org.uk

Order Christmas cards from Adopt Sri Lanka - see page 7.

Contact the British Council or Adopt Sri Lanka for details of twinning.

Contact World Challenge about student expeditions to Sri Lanka on 0208 728 7200 or visit www.world-challenge.co.uk