The last word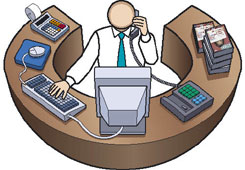 The Last Word brings you the musings of SHA members on daily life in school - those things that have made them laugh, cringe or groan over the past month.
It hasn't been a great first month as a new head: two temporary exclusions, a runaway pregnant pupil, a sniff of a drugs incident (as yet unresolved), a child protection issue that resulted in a teacher's dismissal, and the football team losing 7-1 in the first game of the season.
Much of this comes with the territory, of course, even in the leafy suburbs of a university town. And although events like this may seem bleak at the time and devastating for individuals, they can be surprisingly positive for a school.
Colleagues have rallied round and I have seen wonderful touches of humanity from all involved. If ever inspectors are struggling to find the spiritual, they need look no further than occasions like this; there's God in every tear.
Except, of course, in the performance of our footballers, who resemble Man United in strip and Friends Re-united in their generosity to the opposition. Even the one we scored was an own goal.
So it seemed like a good time to reach out and 'network'. A local school needed a new governor, having been placed in special measures following an unsatisfactory Ofsted. I arranged a tour and two splendid year 9 pupils escorted me from pillar to post.
I had read the Ofsted report and was expecting a cross between a Glasgow crack house and downtown New Orleans without the rhythm. But, as far as the gap between Ofsted and reality was concerned, I might as well have been in a different continent let alone a different school. It was well equipped, light and airy; pupils were busy and engaged.
The head, who kindly gave up time to see me, oozed leadership and knew his school backwards. Teachers were, well, teachers - not always full of the joys of spring, but engaged in their moral purposes, living their dreams; not beaches and sun, but believing that they can make a difference to the lives of the pupils in their excellent care.
I went back to the Ofsted report and binned it, but that didn't do the trick. Still angry, I took it out of the waste basket, straightened the pages and sat it proud and upright on my mantelpiece of shame, along with a portrait of Pinochet and a bust of Richard Nixon.
So my next month will be quiet and peaceful in comparison. Some hope, I hear you say, but sometimes hope is all that we have to keep us going as school leaders.
Not that hope currently enjoys the status that it once had. Of the 41,000 words in the October white paper, the word 'hope' appears just twice.
This rather old-fashioned notion has been replaced by 'vision' (14 counts) and 'reform', which seems to get a mention on as many as 26 occasions - and, worryingly, sometimes in bold.
I'm all for vision, of course, and I don't mind reform, particularly as our footballers need to change their formation; even Sven has lost all hope in 4-5-1. But hope in itself is a basic human driver - it is the one thing that makes us want to do better, to save money, to have children, look after our health and carry on as school leaders. Has the government forgotten this?
As President Wilson said (Woodrow not Harold), and might have said to our educational mandarins: "You are not here merely to make a living. You are here to enable the world to live more amply, with greater vision, and with a finer spirit of hope and achievement. You are here to enrich the world. You impoverish yourself if you forget this errand."
Neil Roskilly is principal of a school in Cambridgeshire.
We are looking for additional contributors to The Last Word. If you would like to share your humorous, ironic, or even cynical observations about school life with other SHA members, please email Sara Gadzik at leader@sha.org.uk We do offer a modest honorarium for Leader contributions.