Handle with care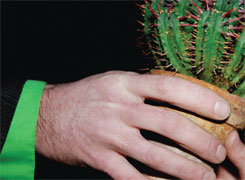 A survey last autumn reported that - more than obesity and students' poor physical fitness levels - leaders are concerned about students' emotional and mental health. Elaine Williams looks at the issues.
As ASCL members well know, schools and colleges can be volatile places. Any institution which draws together hundreds if not thousands of young people under one roof is bound to buzz with youthful energy and to feel the turbulence of adolescence.
Schools and colleges are there to make a difference to young people's lives and on the whole they are vigorous, positive, creative places.
However, in growing numbers, senior leaders are concerned that young people's learning is being sidetracked by mental and emotional pressures. In last autumn's Headspace survey, run by the Guardian and EdComs, nearly 85 per cent perceived that youngsters are suffering in this respect more than five years ago.
The Audit Commission has stated that in any one secondary school or college, 20 per cent of students will have a clinically defined mental health problem ranging from mild to severe.
According to Young Minds, the national charity that addresses the mental health of all children, in any school of 1,000 11-18 year-olds, 50 are likely to be suffering severe depression, 100 will be in a distressed state, 20 will have an obsessive compulsive disorder and ten an eating disorder.
Respondents to the Headspace survey felt that major factors contributing to this are unstable home situations, an absent parent or guardian, peer pressure, exam pressure, body image and drug abuse.
Leaders increasingly are faced with the symptoms of this underlying turbulence, and at times the scale and nature of young people's behaviour can overwhelm staff resilience.
Take self-harm, a growing phenomenon which can be especially challenging to deal with. Faced with a student bearing self-inflicted scars, it would be only natural for staff to react with feelings of helplessness. Yet there is much that schools and colleges can do to support young people through difficult episodes.
Start with staff
Karen Cromarty is chair of the counselling children and young people's division at the British Association for Counselling and Psychotherapy (BACP), and coordinator of the Durham schools' counselling service. She also works as a counsellor at Ferryhill Business and Enterpise College, near Durham.
She believes that a culture of respect and robust emotional literacy from the top down, as well as continuing professional development for all staff in mental and emotional health, can do much to get through the dark periods.
"Staff are under pressure as well and research shows that emotions are contagious. If you see a clearly unhappy headteacher briefing staff in the morning, and those staff then going out into classes feeling demoralised, this has a knock-on effect. Successful schools have highly emotionally literate senior staff."
For example, she argues that an understanding of disorders combined with a high degree of self-knowledge can help staff deal equably with the issue of self-harm.
She says: "Fundamentally, self-harm is a coping mechanism, an attempt to feel something, to put your anger somewhere. It is the opposite of being suicidal. It is about wanting to feel and to be."
Equally, with a common issue like depression, staff need to know when a low mood - a sign of normal adolescence - is developing into a clinical condition.
Early intervention
However, no individual member of staff should be left to deal with any of these issues alone. Schools and colleges should establish both a pro-active culture and a clear referral system. Early intervention is crucial if acute phases are to be avoided.
Developing links with Child and Mental Health Services (CAMHS) and educational psychologists can help to increase the chance of swift intervention as well as prevention.
Karen says: "As a school counsellor I often ring the local primary and mental health worker for advice and to provide in-service training for school staff. That way we are not having to refer every child."
Peer mentoring is being introduced into growing numbers of schools. For instance, the Connect service at Kingsbury High School in Brent has pupils trained in mentoring, who run assertiveness workshops, a one-to-one drop-in centre and a paired reading scheme, among other things.
A senior member of staff with overall responsibility for mental health and social welfare is also helpful in addressing these issues.
Linda Culling, leader of student welfare at John Cabot City Technology College, Bristol, which draws from the four poorest wards in the city, is such a person. Her post involves line management of heads of year and key stage coordinators on issues concerned with young people's emotional and mental well-being.
She reports directly to headteacher David Carter on a weekly basis. "Those meetings are sacrosanct," she says. "Nothing will shift them. We talk about individual students and their problems as well as general developments. We cover the whole range."
Linda is also responsible for a yearly programme of staff training days and twilight sessions on issues like self-harm and good practice in dealing with disruptive students.
She works closely with the school counsellor and learning and behaviour coordinator, the latter appointed a year ago to deal with the most disruptive and disturbed students, supporting them on anger management and related difficulties such as substance abuse.
Time out
The school counselling service runs a peer support and buddying scheme. There is also a time-out system whereby students with personal and family difficulties or anger problems are provided with time-out cards.
These give them the chance to leave the classroom and go down to reception where there is "a nice calm quiet area and a couple of IKEA sofas". They stay there while their tutors are contacted.
In this way, "we give the choice back to the child," says Linda. "We give them the chance to identify that they might be losing it, that they need help, time and space away from a situation."
Students are also trained in stress and conflict management from year 7, at times with a trained therapist, who works with them to identify feelings of anger, depression and isolation, and provides strategies for dealing with it.
However, the school's real commitment to emotional and mental welfare comes out through its ethos. Linda says: "We are committed to personalised learning and that means care for the whole person.
"Students are involved at all levels of school life and staff are encouraged to get to know the students by spending time with them socially as well as in the classroom. We have a policy of staff eating with students at lunchtime, and throughout the school you will find groups of students and adults chatting.
"We also have a very caring and integrated support staff, many of whom, including the secretaries, have become link tutors so that every tutor group has two members of staff attached to it.
"We have lots of informal groups of students involved in the school, so that there is a group that congregates in the photocopying room doing jigsaws and recycling paper. We also have a group of technology wizards who run around in black jeans and T-shirts sorting out lighting and projectors.
"There is a strong culture of trust which means that kids who are really struggling are usually picked up early."
All in one
Wyke Sixth Form College, Hull, believes that colleges and schools should establish as comprehensive and transparent a system of support as possible.
A counsellor has been in place since the college was set up in 1988 but more recently a guidance centre has been established, clearly visible at the front of the building.
This is a one-stop shop for student support, from bus timetables to educational maintenance allowance (50 per cent of Wyke's students are eligible), to counselling and the Connexions service which has a base there.
Mike Rogerson, Wyke's vice-principal, said exam stress was a major issue, as well as students leaving home during their education. They also have cases of financial hardship and students working part-time for too many hours.
Every year the college conducts a survey into students' part-time working commitments. He says: "There is a lot of pressure on our students to earn money - they are working in to the early hours and then coming into college.
"All this information is passed back to tutors who talk to them and try to help them out."
Tutors meet students three times a week and make it their business to pick up issues early. They report to one of three divisional heads so that senior managers are aware of day-to-day as well as longer term issues.
No school or college these days, says Mike, can hope to meet students' growing and complex needs without a detailed system of support.
Demonstrating to students that their mental and emotional well-being is a priority is the first step, says Karen Cromarty. "By offering this support, you are saying 'life can be difficult, we understand that and we are going to do something about it to help you.'
"If students know there is somewhere to go and somebody to trust, that is curative."
Getting students to open up
These are some of the strategies ASCL members have adopted to support students' emotional and mental health:
An emotionally literate senior management

A culture of respect and trust between staff and students

Good relations with outside agencies - GPs, CAMHS, educational psychologists, social services, school nurses

Continuing professional development for staff on emotional and mental health issues

A robust PSHE programme

A senior member of staff in charge of student welfare

Access to counselling - in 2005 children's minister Margaret Hodge said psychological counselling should be available in all schools; the Welsh Assembly has pledged to kick-start pilot schemes across the country and the NSPCC is seeking to extend counselling provision to all schools in Northern Ireland.