In the business of schools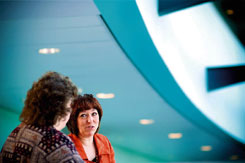 A growing number of schools are appointing bursars and business managers to their leadership teams, but roles and responsibilities can still vary hugely. Angie Spencer looks at what value they can add - and what support they require in return.
"I can't imagine going back to life without Maxine," says Pat Young, head of Newbridge High School in Coalville, Leicestershire.
"As business manager, she has developed so many areas of expertise for which I simply would not have had the time.
"She is a fully integrated member of our senior leadership team with a very clear role in school improvement and planning. At the same time, she takes the burden of administration from other school leaders, enabling us to concentrate on our core purpose."
Newbridge is one of a growing number of secondary schools which are appointing a bursar -- or business or finance manager - to the leadership team.
An ASCL survey last autumn showed that currently about 20 per cent of secondary schools have someone with a non-teaching background in a senior leadership role.
Of course in colleges, having a senior manager in an administrative role has long been established practice, and independent schools are ahead of state schools in this respect.
However, many secondary leaders say they have plans to put a bursar on the leadership team as part of the staffing restructure through TLRs. In three years' time, the statistics will undoubtedly paint a very different picture.
While the concept of a non-teacher on the leadership team is fairly widely accepted, the length and breadth of the role can vary considerably from one school to the next.
Some schools, like Newbridge, have put the business knowledge and expertise of their bursars to work at every level of school improvement. In others, the role is still treated as an administrative 'add on'.
Convincing the sceptics
In some cases, new bursars are hindered by the reluctance of senior staff to hand over the reins of decision making: old habits die hard. Others can find their wings clipped by senior staff who struggle to accept that someone with a non-teaching background can have a major role in leading the school.
"One of the key ingredients for success has to be distributed leadership," said Newbridge's business manager Maxine Adams, who took up the bursar role in July 2002, after a career in finance, human resource and site management in both private and public sectors.
"Heads need to empower bursars by trusting in their expertise and knowledge. Pat set the tone for me before I was appointed by sharing ideas and concepts of what my job would entail with other members of staff. She also introduced me to the whole school in a series of assemblies.
"By the same token, she made it clear to me that I should find out as much as possible about teaching and learning and different strategies employed at the school, so that I could contribute fully to leadership meetings.
"Because of that, I know my colleagues respect my skills and abilities and don't mind having to explain details about curriculum models and pedagogy when I need them to."
In addition to looking after health and safety and introducing in-house catering, Maxine reorganised cover management and instigated a thorough performance review system for support staff, which has helped improve standards.
She's also raised the value and profile of support staff, to the extent that they were judged one of the school's strongest elements in achieving Investors in People status. "I don't think a teacher would have had either the time or empathy to do that."
Maxine's appointment has also impacted the fabric of the school. In addition to changing classroom colour schemes and authorising sustainable energy for heating, she ran the bid for a new £87,000 multi-use games area the size of five tennis courts.
"In a business world, I was expected to make savings for my client that more than covered my fee," she said. "It's second nature to me to do the same thing in school via a higher level of efficiency and the cost-effective use of resources."
In addition to her 'business' responsibilities, Maxine supervises school buses and lunches on a duty day once a week. She also regularly deals with behaviour problems, liaises with parents and is a mentor for a previously excluded child.
The approach at Newbridge enabled Maxine to start from a position of strength. But for many schools, the initial period after appointment can be confusing as staff struggle to grasp what the bursar can do for them and what support they need to give in return.
When Valerie Hopkins took up post at Stratford-upon-Avon High School 12 years ago, she was shown to a room with a desk, a scattering of A4 files and no computer.
"I was one of the first school business managers in the country and I don't think they really knew what to do with me at the start," she said. "I wasn't a teacher. I was a member of support staff but I was also a manager of them. I was neither one thing nor the other."
A former senior business analyst for Rolls Royce, Valerie remembers spending the early months explaining her capabilities to members of staff and badgering them to allow her to take over responsibility for budgeting and for health and safety.
"I think there was an initial fear of letting go," she said. "But I had been used to presenting my case and putting my views across so it didn't faze me."
Full credentials
Four months later, Valerie did get her computer and after 18 months was appointed to the schools' senior leadership team.
"That gave me real membership," she said. "If someone is going to do my job properly, they have to share in the educational vision of the school. We have to be at the heart of decision making.
"How could I hope to lead workforce reforms and address the extended schools agenda in isolation?"
At the top of her list of requirements for doing the job successfully is the trust and support of the head, closely followed by physical resources. "I need space," she said. "I don't believe I could possibly share an office with another person because I have so many confidential conversations.
"Having a good team of support staff is also important. Over the last few years I have structured our support staff into teams with leaders.
"That means I am now able to spend more time developing the external facing aspects of the school through business links, user groups and networking with other schools.
"I was the driver and project manager behind our fully-equipped new school building which opened in November 2002. I was also able to raise a significant proportion of the £1.15m required to equip it by securing sponsorship and grant aid.
"I couldn't have achieved those things without the freedom to get out there and network with people."
Valerie has also led Stratford High's extended schools status, including taking over a sports centre which was incorporated into the school, and she has led on workforce reforms, delivering training at county level.
Bursar networks
Having initially joined ASCL in order to keep abreast of developments in education, she is now the first chair of ASCL's bursar committee and a member of Council.
"One thing I'm now looking at is developing shadowing opportunities within bursar networks. Looking at my local bursar network in south Warwickshire, it's evident that we all have very different roles within our schools. Not all are on the leadership team, for example.
"Just like teaching staff, it's essential that we find ways to share ideas and update our skills."
Former city banker Richard Fletcher agrees with this. When he took the post of director of finance and administration at Angley School in Cranbrook, Kent, in 2004, he chose to update his knowledge of the education system with the Diploma in School Business Management (DSBM) run by the National College for School Leadership (NCSL).
"It was prioritised for people from industry and gave me a bit of a grounding in education. I felt I needed the basic tools of how to go forward and it really helped refocus me," he said.
Richard readily admits the past two years have been something of a baptism of fire. "When I arrived I expected a platform of order, with systems and due processes in place, but they didn't seem to be there," he said.
"It was a successful school on many counts, with good results and outcomes, but administratively it was built on sandy foundations.
"I inherited a single filing cabinet and was hot desking for a few weeks until an office was prepared for me. I did feel 'in at the deep end' with no one other than the head to share my concerns with.
"When I attended leadership meetings, I found the agendas focused completely on teaching and learning, with any administration matters added as 'any other business'."
Fortunately Richard had good support from the then headteacher and more recently from the new head who is keen to harness his business vision in creating a more strategically-focused school.
He said: "It was quite a tough first year. I do recognise, though, that it is an evolutionary thing and I now feel much more included and empowered."
Since joining the sports college, Richard has focused on developing ICT and upgrading dilapidated 1960s buildings. He has managed bids for a multi-use games area and a new sports education centre.
"I think my financial background and my ability to forge strong business partnerships have enabled me to take measured risks that have benefited the school," he said.
In the early days he recalls hearing the phrase "this is a school, not a business".
"I have to beg to differ," he said. "I think schools are businesses and our business is educating young people to the best of our ability.
"I have learned a great deal over the last two years, not least that schools can be so much better with sound financial management."
Support for bursars
Bursars and business and finance managers who are on the leadership team are eligible for ASCL membership. They receive all the benefits of membership including access to hotline support, regular publications and training courses. ASCL is campaigning for an equitable pay scale for all support staff.
NCSL is offering the Certificate of Business Management, a training programme for bursars and business managers focusing on strategic management. For details visit www.ncsl.org.uk/programmes/dsbm
Angie Spencer is a freelance writer who specialises in education and health issues.