The last word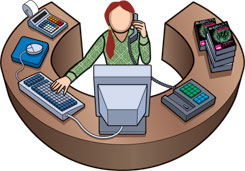 It's that time of year again, when the most frequently asked question from parents is whether their darling year 7s really have to worry about getting their head stuck down the toilet.
Primary-secondary transition has been quite the thing for some years now, and all secondary heads publicly demonstrate their commitment to it, especially at the annual meeting with year 6 parents who have heard the stories from their children about the evils that await them at the big school.
A colleague of mine tried to lighten the mood one year by joking that shampoo was kept in school especially for washing the hair of the children whose heads had been shoved down the toilets by the bigger boys, only to find himself besieged by horrified parents at the end of the meeting.
However, as I hurtle ever faster towards old-fogeydom, I wonder whether the new year 7 pupils wouldn't do just as well if they got the same kind of 'induction' that most of us had.
Do you remember? Turn up on the first day of term in uniform, with your shiny new satchel, and get on with it. Make sure it's a satchel, mind, or you might suffer the same fate as that which befell Nigel Turner.
His parents made the critical error of thinking a briefcase looked more grown up, consigning Nigel to a good kicking and a full five years of reference to his 'swot-sack'.
In my day there were no parents standing anxiously at the school gates and certainly no special arrangements at dinner time - we were expected to spend all year queuing outdoors for 50 minutes in all weather and like it.
These days, however, schools the length and breadth of the country are working feverishly to find new, improved ways of settling in their new intake. Have you noticed, however, how confident and knowing these 11 year-olds are increasingly becoming?
I undertake some of the visits to new pupils at their primary schools, and usually conduct an 'any questions' session as part of it. This year, amongst the usual fodder on uniform, detentions, chips and so on, were queries about whether make-up was allowed and whether they could bring motor scooters to school.
I was pleasantly surprised and heartened that the head-down-the-toilet question didn't arise, only to find that the class teacher had warned them, on pain of death, not to show her up by asking it.
I do actually have sympathy for the new students faced with the prospect of walking for the first time into a school where everything is new and unfamiliar. In fact I think about it every time I attend a conference. The most recent one - I won't say which - was the usual fodder.
I got there in good time before the advertised start (punctuality being the law, as far as I'm concerned), do the registration thing where they give you a big pack of stuff that you then tout around with you all day (the same one you've had in the back of your car since the last thing you went to) and get the cup of coffee.
Then, I stand about. For a long time. Other people greet each other like long-lost friends returning from the war, but I'm always Billie No-Mates.
Finally, I go in to listen to a DfES wonk do an introduction that says absolutely nothing in the most alarming number of words possible. There's a bit of a video clip of some marvellous school, designed especially to make as many delegates as possible feel totally inadequate. Then everyone is invited to share 'good practice' with colleagues on their table.
Strangely, I always seem to be on the table with other heads who are at least as curmudgeonly and subversive as I am and we settle down for a good moan.
Last term's hot topics were TLRs (still!), recruitment (maths and science continue to provide the best headaches) and - everyone's perennial favourite - Ofsted.
Every so often, we're invited to stick up our hands for the microphone and offer selected pearls from our table. This reveals that all the other groups are also giving a good banging to TLRs, recruitment and, of course, Ofsted.
And as for the plenary? For the first few years of my teaching career in London, I laboured under the misapprehension that 'plenary' on a course programme meant 'go shopping on Oxford Street'.
As a result, alongside a fair few of my fellow delegates, I was in Starbucks before the words 'evaluation form' had even been uttered.
At least at conferences, though, I don't have to make small talk about who will win Big Brother.
In the same way that, as a young teacher, I assiduously watched Top of the Pops so as to keep a foot in the kids' camp, this time of year I keep half an eye on this appalling example of televised wallpaper in order to appear 'cool' with my young staff.
Come to think of it, there are times when spending the summer term in the Big Brother house rather appeals. If they decide next year's mix would be improved by the addition of a moaning old trout in her late 40s, I'm in!
By Helen Freeborn, Head of Siddal Moor Sports College in Rochdale
The Last Word always welcomes contributions from members. If you would like to share your humorous observations of school life, please email Sara Gadzik at leader@ascl.org.uk We do offer a modest honorarium.