ASCL workload survey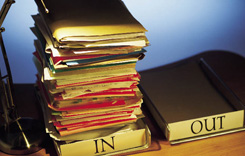 Half of all secondary schools leaders (51 per cent) believe that their job is having a negative effect on their health, according to a survey of ASCL members. Despite this, more than four in five (84 per cent) of secondary school leaders say that they enjoy their job most of the time or nearly all of the time.

The findings were published to coincide with the School Teachers' Review Body (STRB) report showing that, while there has been a decrease in the working week of all classroom teachers and primary heads (now 53.5 hours), secondary heads' and deputies' work week has jumped to 65 and 61 hours a week respectively.
ASCL has been putting pressure on the government to slow the pace of new initiatives and give schools and colleges a period of consolidation. The current education ministers have acknowledged to ASCL the need for a more measured approach and seem to be working on this principle. Time will tell whether it will have the desired effect on decreasing secondary leaders' workload.
John Dunford said that the ASCL survey is evidence that school leaders are devoted to their work and to the students they teach, and that school leadership is still a hugely fulfilling job.

However, he added, "Workforce reforms have had the desired effect for teachers, but the knock-on effect on leaders' workload is unacceptable. The pressure put on heads and deputies by central government and local authorities to meet targets is unsustainable. Heads are willing to be accountable for raising achievement, but they cannot do this under a barrage of bureaucracy, new initiatives and constantly changing goalposts."

The ASCL survey also showed that over three-quarters (76 per cent) of secondary school leaders do not take a lunch break on most days and when they do, the average length is less than 15 minutes.

Almost one-half of respondents (44 per cent) report that up to a quarter of their day is taken up by administration, and nearly a third (29 per cent) report that they spend up to half of their time on administrative duties.
Among the respondents who listed reasons for increased stress levels, commonly mentioned causes were workload, the pace of new initiatives and dealing with parents.