Meaningful connection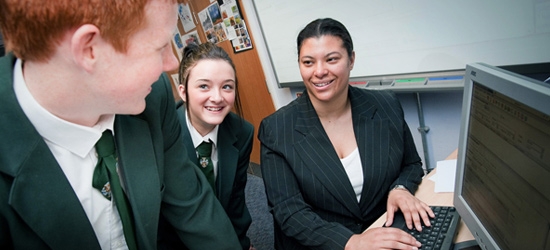 Despite issues of system compatibility, Hindley High School is nearly there with online reporting to parents. Steve Nolan explains where the snags were and gives his tips for schools just starting the process.
From September 2008 all maintained schools were expected to start the move towards online reporting with the expectation of all secondary schools providing parents with online reports by September 2010 and all primary schools meeting the requirement by September 2012.
When it works, online reporting should give parents secure online access to a range of information on their child, when and where they please. It should enable parents to get closer to and better support their children's learning, helping them to work with schools as equal partners.
There is little prescription from the DCSF for what is reported online beyond the five general areas: attendance, progress, behaviour, achievements and special educational needs (SEN). And, as we would hope, there is almost no prescription as to how a school should go about online reporting - because there is an infinite number of ways of doing it.
Some schools are investigating bespoke systems, including email and text messaging; others use their learning platform, web portal, Microsoft SharePoint or other systems to which they add proprietary web parts that extract data from the management information system (MIS) and customise the parent view.
Some schools will take longer to reach this requirement than others but if by 2010 a secondary school has in place online reporting in three areas - say attendance, progress and behaviour- and is working towards achievements and SEN, that would seem to constitute acceptable progress.
On-screen registers
Situated on a council estate near Wigan, with 18 per cent of students eligible for free school meals, Hindley High School has made a concerted effort to involve parents in their children's education.
We began looking at ways to improve parental engagement through online reporting in 2006 as part of a move towards more efficient ways of storing, recording and reporting data and information, and improving work-flow processes for staff.
We started with attendance, which was easy because we already had a teacher workstation in every classroom connected to the interactive whiteboard. We introduced every member of staff to on-screen registers and pupils were amazed to see that teachers could see their lesson attendance for the previous lesson or whole day - including any comments for late marks. Marks were also reported online through the SIMS Gateway immediately for parents to see.
It was around this time that the school became involved in the pilot scheme for online reporting, so we designed our developments from then on with the government's online reporting mandate in mind.
Next we worked on reporting progress. At the time we had a third-party system for assessment which had served us well over the years but was starting to become unreliable.
We looked at which work-flow processes could be absorbed into our management information system (MIS) and ultimately could be reported online. We identified assessments, behaviour, reports and SEN and requested on-site training by SIMS professionals from the local authority and from Capita to a wide range of staff over an 18-month period.
We created a central and single data source for attendance, progress, behaviour and assessments within the MIS. For example, staff now enter pupil progress assessments directly on screen in the classroom. They are displayed online immediately and when hard copies are needed for home it takes a member of the admin team a few minutes to print off assessments which are collated in form group order.
Prior to this, with our old system admin staff would print OMR (optical mark reader) sheets and place them in staff trays. Staff would complete the sheets and return to admin where they would be scanned into the system, processed, printed and then handed out to form groups.
We have tackled behaviour management processes in a similar way. Our five pastoral support professionals (non-teaching heads of year) are able to monitor behaviour referrals in near real-time on screen and see other student information.
Data protection issues
One problem in reporting behaviour online to parents is that there is currently no option to configure which fields of the behaviour screen are shown - it is all or nothing. We have currently disabled the online reporting of behaviour until more functionality is built into the system through the forthcoming SIMS update.
Some schools have worked around this by storing detailed comments elsewhere, therefore avoiding potential data protection issues when an incident involves more than one pupil.
Most recently, we have started looking at reporting achievement online. We have an excellent and tangible rewards system which students greatly appreciate. To enhance it, we have added electronic rewards so that parents or carers can see immediately online when an achievement has been posted, and a points score is automatically tallied for each pupil.
We are evaluating how to refine our reporting processes and to incorporate Assessing Pupil Progress (APP) for online reporting. It will be interesting to see how quickly organisations such as Capita and RM respond to APP within their systems, as almost all schools will be using a similar template.
The new work-flow processes were all piloted in school first and championed with departments or small groups. Whole school training was used to roll out developments across the school.
Compatibility problems
In 2007 there were compatibility problems with the learning platform as it could not access the mark sheets we had made for display online using SIMS Assessment Manager. Similarly, the whole of the behaviour information was displayed without the functionality to remove fields or configure what is displayed.
Senior personnel from SIMS and RM were invited to school to discuss the future developments of their system and we also consulted Becta and other schools. From this we became an ICT consultant school, online reporting hothouse school and an advocate school for online reporting which meant we have been able to seek out more good practice.
However compatibility remains a problem for the sector. Most learning platforms and MIS systems provide a portal or gateway facility to display data and information online but it depends on where the data is stored. For example, it is unlikely that an MIS system portal or gateway will fully extract data needed for online reporting from another supplier's learning platform. Equally your learning platform supplier's portal may well be limited in what it can read from the MIS.
We have been involved in Becta's work with schools and suppliers to implement the systems interoperability framework (SIF) they have developed to start to address this issue.
We also have been in frequent contact with the strategic product development managers at Capita and RM in order to help push forward the agenda for interoperability.
However, few suppliers have yet caught up and released products that are fully interoperable with all systems. Even when they do there may well be other obstacles.
The latest road map from Capita for SIMS developments, due to be updated in June, July and October 2009, looks promising as there should be much added functionality - the ability, for example, to display selected fields from the behaviour module to parents, display SEN information and so on.
Universal access
A question that I am often asked is: what about parents who do not have access to a computer at home? This is something we still struggle with.
The Home Access programme launched by Gordon Brown in 2008 is intended to provide a computer and internet access at home for every child, in every family. Vouchers will be allocated to eligible families to collect a computer from a store.
While this will help the current situation to an extent, I believe that some families would benefit more from TV-based internet access which would be more reliable and require less maintenance than a computer with software and wireless access. This is true especially now that online web 2.0 type applications such as ThinkFree are providing the benefits of an online office and other applications for occasional use.
If parents could click a button before watching their favourite TV programme to find out about their child's behaviour, progress and attendance, we may finally start to reach the very hard to reach.
I would say that the efficiencies we have made in admin and teaching staff time in moving to online reporting more than outweigh the few thousand pounds it costs each year for the web-based components of the system. However, the most important aspect is the gain made from engaging parents more in their child's education, which is difficult to measure but infinitely valuable.
Steve Nolan is director of ICT and assistant head at Hindley High School, Wigan, an 11-16 school with 950 pupils on roll. It is an ICT Consultant School, is listed on the ICT Register for Parental Engagement and Online Reporting and is a Becta Advocate School.
---
Access all areas
Steve's top tips for online reporting are:
Create a plan for the development of online reporting - be aware that it will change and be updated many times.

Look for ways to simplify existing work-flow processes for admin and teaching staff.

Aim to enter data once only.

Aim to store data in as few places as possible.

Share expertise between staff so it doesn't reside solely in one or two individuals.

Check out the functionality of systems with schools that currently use the one you are thinking of buying - don't rely on sales talk!
Becta and the Specialist Schools and Academies Trust (SSAT) are working together to support the parental engagement and online reporting agenda. They provide an online community area, parental engagement and online reporting frameworks and toolkits plus a schools self-review framework which is being updated. See http://schools.becta.org.uk/