Playtime's over...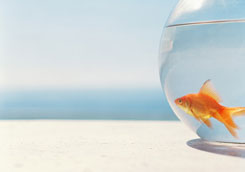 A programme run by SHA and the Gatsby Charitable Foundation is helping to address the academic dip between primary and secondary school. Angela Spencer looks at strategies some schools are trying, including computer portfolios, can-do checklists and curriculum maps.
It's the classic big fish, little fish syndrome. One minute you're at the head of the school, confident of your surroundings. The next you are a minnow in an unfamiliar adult world where rooms and teachers change several times a day.
The transition from primary to secondary school is a traditionally difficult period for Year 7 students, emotionally and academically. To help schools manage the move, SHA has developed a programme with the Gatsby Charitable Foundation.
A full-time coordinator, Celia Moore, has been appointed for three years to work with pairs of teachers in developing transition projects.
After an initial short residential course, the pairs analyse provision in their own schools and, over a year, are provided with the resources to develop strategies that adapt good emerging practice.
"The initial intention was for a course for secondary school leaders," says Terry Allcott, director of SHA's management and professional services. "But many of the teachers who enrolled brought a teacher from one of their feeder primary schools with them.
"When the current project comes to an end, we may well develop it as a joint project in which primary and secondary schools work together on solutions for whole school communities."
The first cohorts started in earnest last September and the second group will begin this autumn.
On the ground
The programme is not prescriptive, says Celia Moore. "We recognise that all schools are in different situations and people on the ground know what suits them best.
"For example, bridging projects that work really well in secondary schools with fewer than ten feeder primaries would be very difficult to replicate in schools with up to 42 feeders.
"But there are generic things that are important, such as involving all school staff in transition, not just the heads of Year 6 and Year 7; communicating between schools a common understanding of good curriculum and pedagogy; understanding that maths and English scores are not the only important areas.
"The best projects so far are the ones that schools have worked on between themselves because they get secondary and primary teachers to talk."
Of the 70 or so schools so far involved in the programme, some have previously had little by way of transition projects in place, while others are working on innovative solutions.
These might include the transfer of maths profiling from primary to secondary, or asking pupils in their final year at primary school to build computer portfolios of their work, which can then be accessed by their secondary school teachers.
Science project
Thorncliffe School, Barrow-in-Furness, has used a grant from the Gatsby Charitable Foundation to fund a science-based project.
Says assistant head Ray Simpson: "It invites Year 6 pupils into school for a series of three lessons designed to enthuse the pupils; familiarise them with our labs, routines and expectations; and allow them to hit the ground running in September.
"It also enables us to gather information about individual pupil ability and aptitude for the subject."
The same school gives Year 6 students access to its ICT facilities to download exemplar pieces of work from the three core subjects, plus one other subject area.
"Part of the project is for each pupil to carry out a self-assessment of each piece of work - the start of self-review," says Ray. "Teachers then have work to refer to, which is particularly useful in performance review sessions."
At the 1,400-pupil Cyfarthfa High School in Merthyr Tidfil, a whole range of transition activities have been organised with six feeder schools, including the development of curriculum maps for each subject area for Years 5 to 8.
Head Alan Pritchard says: "This is an extension of our initial strategy to have transition projects in each subject.
"Working parties were set up in each subject area and included heads of department and Key Stage 3 coordinators from our school and the subject coordinators from each primary school.
"The groups met at twilight sessions and joint inset days. The process involved LEA subject advisers at appropriate times."
The cluster of schools has also formulated a consistent behaviour and classroom management system. Called PACE (Positive and Consistent Education Action), it provides common elements and sentiments in behaviour and discipline policies across all the schools.
Feeder family
Cyfarthfa High has worked with its feeder family to develop a range of teaching and learning practices under the umbrella of the IQEA (Improving the Quality of Education for All) initiative developed at Cambridge and Nottingham universities.
"Our involvement with IQEA has meant us researching together," says Alan. "Regular evening meetings are held to share ideas and discuss best practice and these are highly popular with staff."
Teachers from all the schools are also developing a CD-Rom based on photographic materials of different parts of the world, which can be used as a basis for studies across Key Stages 2 to 4 in a number of subjects.
And an inter-school intranet is being produced by a working group of teachers from each primary school chaired by Cyfarthfa High School's ICT expert.
The intranet, which will show the curriculum maps for Years 5 to 8 and include a wide range of teaching and learning materials, will eventually be accessed at different levels by pupils and staff.
Year 5 visits
The transition project at St Aidan's Catholic School for boys in Sunderland - a 1,150-pupil school with 35 primary feeders - also begins in Year 5 with half-day curriculum visits.
Youngsters take a science lesson in the labs, go into the ICT suite to write up their experiments, and then have a French lesson (the school is a specialist language college).
Unusually, girls as well as boys are invited. This has the dual benefit of making the primary boys feel less isolated in the new surroundings as well as allowing their primary school teacher to sit in on the secondary school lessons.
A further buddy day at the end of Year 6 lets pupils spend time with their new form class and form tutor, who they meet again on induction evening and who will remain their tutor for the next five years.
Assistant head Patricia Small says: "It's very important to get the youngsters into school as often as we can so that we give them a flavour of what to expect and address some of the emotional issues around transition.
"Unfortunately we can only logistically manage the curriculum visits for our nine main Catholic feeder schools, but the other feeders are still involved in the buddy day and induction night.
"It hasn't been easy getting the whole programme up and running. For two years my biggest hassle was transporting the pupils from the primary schools over to us and back again.
"I had to block book our mini buses and get some of our staff to drive them - an incredible waste of teacher time. Now I have found a charity organisation that provides us with mini buses at low cost, which the primary schools can fund themselves."
Fact-finding missions
For the last seven years, Patricia, accompanied by the head of Year 7, has also conducted fact-finding missions at the feeder schools to talk with staff about children who may have difficult circumstances at home, or who are gifted and talented, excel at sports or have behavioural difficulties.
"There are always things that staff don't want to write down," she says. "By talking face-to-face, we can break down the barriers and find out what switches a child on."
In June, the heads of Year 6 for the nine main feeders are meeting at St Aidan's for a cluster day aimed at drawing up a generic can-do checklist of ability that can be filled in by primary school teachers and handed to Year 7 form tutors to give them a better insight into each child.
"The can-do list idea has been in my head for some time," says Patricia. "But it's only thanks to funding via the transition project that I've been able to pay for supply teachers to free up all the primary school staff for the day in order to get it off the ground."
As Celia Moore says, there is no one solution that will work with all schools. But, one project at a time, students are finding that being a little fish in a big pond can have its advantages.
Making the transition
Developing Primary Secondary Transition is a programme run by SHA and the Gatsby Foundation to help schools manage the academic and emotional hurdles of students entering secondary school.
Participants take away ideas, tools, and good practice to adapt and use in their schools. During and following the programme, support is available from the full-time project coordinator.
There are two cohorts starting this autumn. Participants attend a 24-hour residential with one follow-up day a month later and a second follow-up day in autumn 2006.
We recommend that two members from each school attend, including the transition coordinator.
To find out more about the transition programme or to register, contact SHA's Management and Professional Services Office on 0116 299 1122 or maps@sha.org.uk