The cup is more than half full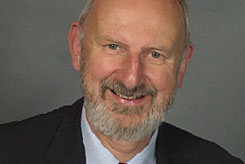 Media headlines following the HMCI report in February jumped on England's 1000 'poor' schools. What about the 24,000 that are making good progress?
"We have in England an improving system of education, as well as one that has in place many of the preconditions for further improvement," stated David Bell in his annual report released in February.
Susan Lewis, the chief inspector in Wales, said much the same in her annual report.
Why then, did most media coverage of the report echo 'The Times' headline "Schools Crisis Over Standards and Discipline Fails Children".
Is the media right, or is David Bell?
In support of his case, David Bell pointed to the improved quality of care and education for young children, a strong cadre of headteachers, improvements in school self-evaluation, a better curriculum offer for 14-to-16 year-olds and the continuing success of sixth form colleges.
As part of his balanced view of the year's performance, the chief inspector also highlighted differences in progress between different groups of pupils, slow progress in reducing the achievement gap between the advantaged and the disadvantaged, no improvement in the number of schools with unsatisfactory behaviour and weaknesses in assessment.
David Bell noted that parents are highly satisfied with over three-quarters of secondary schools but, anticipating the headlines in the following day's papers, he said that "these data stand as a useful corrective to some of the more apocalyptic views expressed about state schools".
He quoted SHA Council member, Bernard Roberts, head of Prince Henry's School, Evesham: "It would be easy for the general public to assume that the education system is in crisis. This is not the case and there are many outstanding and very successful schools in this country, although not yet enough of them."
Neither David Bell nor Bernard Roberts would have been surprised, therefore, at the coverage of the annual report.
"Collapse of the Classrooms as Hooligans Win Power Struggle", stated the Daily Mail headline, which continued: "The shocking breakdown of discipline and standards of education in the country's schools was laid bare yesterday."
The Times article stated: "A growing discipline crisis and thousands of persistently failing schools are undermining efforts to raise education standards."
The education cup, it must have seemed to readers of most newspapers on 3 February, was a lot less than half-empty, when the chief inspector had clearly stated that it was more than half-full.
Not comparing like for like
Part of the problem was that like was not being compared with like in this year's report. Many SHA members in schools inspected in the autumn term 2003 will recall the uncomfortable experience as Ofsted inspectors tried to adjust to the new framework.
Some inspectors did not know how to use the conclusions of school self-evaluation, focusing disproportionately on areas that the school itself had reported as weak.
In addition, the bar had been raised by the chief inspector, almost without anyone noticing - until, that is, an increased number of schools fell into the special measures category.
The last time I did the high jump, I could clear the bar at three feet, but certainly not at six feet. Some schools found the same problem, as the special measures category was toughened from 20 per cent of lessons judged unsatisfactory to 10 per cent.
Inevitably, this caused an increase in the number of schools placed under special measures from 129 in 2002-03 to 213 in 2003-04. I was described by the BBC education correspondent, Mike Baker, as "hopping mad" about this own goal on the performance of the education system.
The government cannot have been too pleased either, as it enabled newspapers to say that more schools were failing just three months before a probable general election.
Behaviour is one of the areas on which schools were criticised for lack of improvement in the annual report, being judged unsatisfactory in nine per cent of secondary schools, mainly because of low level disruption in lessons.
Looked at in another way, we could say that behaviour is good in 91 per cent of schools. This is an enormous tribute to school leaders and teachers in a society in which children are given unprecedented freedom, parents often do not know where their children are in the evening (still less, what they are getting up to) and the behaviour of some role models is nothing short of disgraceful.
SHA members all know that the academic progress and behaviour of young people is at its best when school, parents and children are all pulling in the same direction. When parents do not support the school, the job of SHA members becomes immeasurably more difficult.
Free-range children
Expectations of behaviour inside and outside school have become very different.
As a head in the 1980s and '90s, in my talks to parents of 11 year-olds about to enter the school, I referred to the memorable description by Robert Robinson on Radio 4's Stop the Week programme of 'free-range children'.
I told parents that, if their children came into this category, they were likely to find the discipline of the school difficult.
How much more difficult, then, for the 11 year-olds of 2005 to stand out against - to take just one example - the appalling behaviour and casual foul language of footballers, as well as their amoral approach to the rules of the game.
In the same week that the chief inspector's annual report appeared, the Secretary of State and her Conservative shadow both made major speeches on behaviour.
This produced more headlines and more implications that schools are dens of disorder, when in fact we know them to be havens of calm, even when the community from which they come is anything but calm.
So let us state with pride that the vast majority of schools are well-ordered, safe, productive places for young people to learn.
Let us assert, too, that, under the leadership of members of this association, young people are given a strong set of values in schools and colleges and are growing up with strong self-discipline and enhanced moral purpose.
Roadblocks
David Bell identified two issues that "stand in the way of consistent improvement". One was the variability in performance of schools and colleges. He wrote that 1000 schools are not making sufficient progress, a statement that spawned yet more critical headlines.
It would be too much to hope, I fear, to see the headline, "24,000 Schools Making Good Progress", having improved since the last inspection. The cup is well over half full.
The second issue is the impact of social class. This is no new problem. William Kennedy, an HMI in Lancashire, wrote in 1870: "Give us better homes, better dwellings, better streets, better habits, better social life among the poor, and better food, and then we should have better schools everywhere."
The polarized nature of England's school system does not help in bridging the gaps between social classes, nor does the curriculum and qualifications system, nor does much of what appears in the media.
However, SHA members can hold their heads high in what they have achieved so far. David Bell comments in his report on the "sense of moral imperative and high ambition" and the can-do attitude of school leaders.
Thankfully next year's HMCI annual report will not appear in a pre-election period.
It will summarise a year which sees schools adopt a new framework of inspection, based on self-evaluation and not on artificial levels of unsatisfactory performance.
This new framework, widely welcomed by SHA members - especially those who have experienced the pilot inspections - presents new challenges for school leaders.
We are working hard to meet these challenges. Let us hope that our efforts are judged fairly by inspectors and the media.
By John Dunford, SHA General Secretary