Taking on the mantle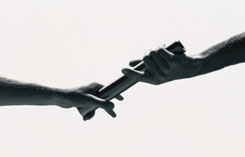 Two years ago, ASCL first proposed the notion of practitioners as chartered examiners as a way to reduce the burden of assessment. Now a framework for chartered assessors is about to become a reality. Brian Rigby explains how it will work.
From key stage tests that begin in primary school through to post A level qualifications, schools and colleges are faced with a multitude of testing arrangements. Generally the role of the teacher in assessment has been seen as important but largely is confined to supporting learning.
At the Institute of Educational Assessors (IEA), we have been considering ways to change this. Over the past two years we have been working with educational stakeholders, such as ASCL, to define a role for teachers as specialists who would lead the quality assurance process.
The IEA is creating a framework for teachers to become assessment specialists, that is, chartered assessors. The IEA has already drafted proposals and we are canvassing the views of educational stakeholders prior to finalising the scheme.
Within the proposals, chartered assessors would have responsibility for overseeing assessment and application of the national standard to teaching and learning, and to qualifications such as GCSEs.
Chartered assessors could work within their own subject areas or they could operate in a senior role coordinating a number of subject areas. They might also work with other schools or colleges as the need arose.
These teachers will undergo specific training for their role.
Gaining momentum
This idea of centre-based assessment specialists is not new. In September 2004, ASCL (then SHA) policy paper 13 proposed the introduction of chartered examiners due to the problems in the existing assessment system. Discussions about this were held with the Qualifications and Curriculum Authority and the National Assessment Agency.
Since then support for chartered assessors has strengthened.
Commenting on the 14-19 curriculum in October 2004, Mike Tomlinson wrote: "The burden of external assessment on learners, teachers and lecturers is too great." His report recommended, "redeploying examiner time and other resources currently devoted to the marking of external examinations, and rewarding those teachers who take on additional responsibilities in relation to assessment, such as becoming chartered assessors".
In March 2006, the QCA's Chief Executive Ken Boston said, in reference to A level exams: "The assessment load is huge. It is far greater than in other countries. We are pushing for the overall burden to be reduced."
The 2006 spring edition of the General Teaching Council's Teaching magazine proposed "a new career opportunity for teachers as chartered assessors, leading the development of assessment communities in schools".
Putting into practice
How, then, would the chartered assessor scheme work in a secondary school or college?
Although the IEA is still developing the scheme, we envisage that each subject area will have a chartered assessor. This person would either be the existing head of subject or, in a large area such as a core subject, another teacher with substantial assessment experience.
Part of the role of a subject head is to coordinate the preparation, delivery and marking of in-school assessment. A chartered assessor would also have a quality assurance role.
Through standardising and internal moderation, the chartered assessor would ensure that all teachers had consistently applied the national standard. This would mean that the school had met the requirements of the awarding body in relation to coursework, reducing the need for heavy external moderation. In its place could be a 'light touch' moderation process.
Chartered assessors from one school could also support another school where colleagues were inexperienced in assessment or where there were problems in teacher recruitment or retention.
Similar to the way some advanced skills teachers conduct their outreach work, chartered assessors could be like a locum in a medical practice. They could visit different establishments advising on assessment criteria and standards in line with the school's or college's existing assessment policy.
In this way the chartered assessor would provide quality assurance, but the school or college would retain flexibility over the way assessments were carried out.
To add consistency across subjects in an institution, there could be the opportunity for one or more chartered assessors to operate at a senior level. Their role would be to quality assure the processes and outcomes of work across different subject areas.
This could apply where subjects do not have a chartered assessor, as well as being a further quality assurance measure for departments with chartered assessors.
Benefits for students
An added benefit is that teachers who become chartered assessors would be better equipped to help students by applying their assessment expertise within lessons. Part of their training would be on how to use feedback to students to aid target setting and future exam performance.
Similarly other teachers, especially NQTs, would benefit as the chartered assessor would serve as a mentor or coach, helping to share good practice. As a result, the department would add consistency to the assessment process that could be built on year after year.
It is not the IEA's intention to re-invent the assessment process but to support good practice based on tried and tested procedures.
Where good practice currently exists it should continue. Where there is inconsistency in assessment practice, it would be re-aligned to be more robust and reliable.
We maintain that through the work of chartered assessors, heads and principals would be able to show greater reliability in the assessment outcomes due to a more rigorous process. This should lead to greater public confidence in all aspects of assessment and qualifications.
Following the launch of the Institute of Educational Assessors on 9 May, IEA members have access to our 'professional framework' that will outline the competencies and functions of good practice in assessment. These competencies will underpin the chartered assessor accreditation process and role.
The IEA aims to acquire a royal charter that would entitle us to set up a process to accredit chartered assessors. This process should not create extra workload for teachers, as it would be based on existing assessment practices, where they are delivered effectively.
The process will also support better training in assessment that should help to strengthen the existing skills in schools and colleges.
Teachers who become chartered assessors will have earned the right to be called specialists in assessment. They will be instrumental in establishing a more rigorous, robust and reliable system that is directly aligned to teaching and learning within schools and colleges.
Brian Rigby is on secondment to the Institute of Educational Assessors from Hollingworth High School, Rochdale, where he is an advanced skills teacher.
To find out more about the Institute of Educational Assessors, visit www.ioea.org.uk or email info@ioea.org.uk