Notes from a small island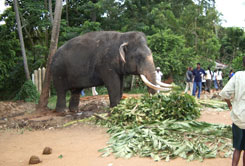 ASCL member Sue Dudley has spent part of her 'gap year' volunteering with Adopt Sri Lanka. She sent this report back to Leader on the progress being made with the funds donated by ASCL member schools.
Last academic year I was a secondary headteacher and Warwickshire branch secretary for ASCL. This academic year I'd planned a long overdue 'gap year'.
In between some consultancy work, I let my house, went to live in France for the autumn and summer terms and am travelling and volunteering in Asia for the spring term.
At the 11th hour, my placement in Delhi fell through and I remembered the article on Sri Lanka in October's Leader. A quick email to Sue Kirkham followed, together with CV and CRB checks to the charity Adopt Sri Lanka and here I am, working as a volunteer in the south of Sri Lanka.
Adopt Sri Lanka, which has partnered with ASCL, was set up after the tsunami and has replaced boats, nets and engines for fishermen; restored and re-built guesthouses; re-built houses and restored livelihoods by re-building markets, provided sewing machines, bicycles and much more.
A large part of Adopt Sri Lanka's work concerns children. As well as re-building and restoring schools, the charity is working to twin Sri Lankan schools with an overseas school and build curriculum links.
One of the more unusual projects I have seen involves teaching children to swim - unnecessary, you might
think, on an island. However, there is no culture of swimming in Sri Lanka for children and women. During the tsunami many of them had panicked and drowned in quite shallow water.
To develop their confidence and overcome their fear of the water, Adopt Sri Lanka is giving swimming lessons to very apprehensive children and parents. Work on the first municipal swimming pool is just starting thanks to the huge effort of a group of schools in Surrey who donated more than £40,000 through ASCL.
All a day's work
A day in the life of a volunteer is certainly varied. In between keeping up with my Ofsted and ASCL mailings, I have been tracing fishermen to tell them their boats are ready, project managing a new housing block for local Tamils, going out in a tuktuk to research some resources or visit a school, answering daily emails, capturing the end result of a donation on digital camera in order to compile a donor report, developing some suggested guidelines for the twinning process, and providing guidance for schools on grants for visits to Sri Lanka.
It has been a great experience to gain insights into how schools operate here and to get a glimpse of teaching and learning in Sri Lanka.
There are Buddhist, Muslim, Methodist, Catholic and national schools, to mention just a few. Teachers are well regarded and classes are large - between 40 and 50 students is common.
Frequently there may be a large 'hall', with mesh at the sides for security whilst allowing air to circulate, which contains three different age groups, sat close together, with three teachers working at three blackboards.
Clearly the range of teaching and learning styles that can be employed in these situations is limited. Resources too are frequently scarce, so science for example, is largely dependent upon demonstration.
The principal's office is a busy place, often with a number of staff crammed into a small space, taking turns on the only telephone, with several conversations going on at once.
The staffroom - where there is one - is familiar territory with conversation, people making tea, delicious spicy snacks and people working.
The classroom walls are very bare except for the daily cleaning list - a rota of students who must clean their classroom at the start and end of the school day, at 8am and 2pm.
Back in assembly
When a donation comes in from an overseas school, the Adopt Sri Lanka field officer works with the principal to prioritise the needs of the school. A shopping list is compiled and costed.
Transport is booked by the field officer and at least one of the teachers accompanies the field officer on the shopping trip in a minibus. This may mean a round trip of six hours or more before the goods are assembled from a variety of shops and taken back to the school.
The day after I accompanied such a trip recently, the principal invited us to his assembly. I found myself on stage and invited to give an address.
Since my Sinhalese is not up to much, I gave a talk one sentence at a time while the English teacher translated for me. Then the principal spoke while the patient English teacher translated for me, again one sentence at a time.
While communication was limited, I could see how much they appreciated their new tools. On this shopping trip, the goods included plant pots and seeds for the agriculture teacher; dictionaries for the English teacher; a cupboard for the science department; a flask, bed and mattress for the home science department; together with some dance costumes and mirrors for the dance and drama teacher.
It is very humbling to realise that one pair of embroidery scissors and one pair of pinking shears is the total resource for a class of 40 students.
UK school visitors
Another aspect of my work here has been to link with World Challenge to help plan for the UK school visits through ASCL this summer.
I have visited schools to discuss projects, from teaching English to painting world maps on classroom walls, and researched accommodation, including water and food and flushing toilets.
The seven schools coming in six project teams can be assured of a very warm welcome, some worthwhile work in challenging conditions and an experience that helps them to understand more of Sri Lankan culture.
Life here is not always easy. We have recently had almost daily power cuts of up to seven hours, phone lines down and intermittent dial-up internet service - so overseas schools need patience in contacting their twinned school. Some schools have a few computers, whilst others do not even possess a phone line.
One of my personal objectives for this year was to develop a better perspective on life and work and this experience certainly helps to set your priorities.
Even a few pounds goes a long way here so a big thank you to all the schools that have contributed (or plan to do so) to the ASCL funds for Sri Lanka.
Since Sue Kirkham and Carole Baldam visited here last year the projects at the school for the deaf and a school in Beliatta, funded by ASCL, have been completed and the results are great.
Very welcome too are the schools which are involved in twinning, exchanging curriculum materials, ideas about different teaching and learning styles and resource material.
The Sri Lankan teachers and principals I have met, from small schools of 86 students (ranging from 6 to 16 years) to large ones of 3,500, share the same commitment to their students as those in England.
They have been positive and enthusiastic about any opportunity to use and teach English and very supportive about Adopt Sri Lanka.
Despite the personal tragedies and devastation they have witnessed, they remain happy and optimistic - most certainly an inspiration to all of us here.
Before her gap year, Sue Dudley was head of Aylesford School and Language College in Warwick.
Further information
ASCL member schools have donated £80,000 so far to Project Sri Lanka and it is making a huge difference to schools and young people in the country.
The money has gone to provide a much needed toilet block, refurbish a kitchen and dormitory in a residential school, purchase resources for schools and, as mentioned in Sue's article, build Sri Lanka's first municipal swimming pool to help children regain their confidence.
Thank you to everyone who dug deep in their pockets for the bucket collection at the annual conference dinner - it added an impressive £1,609 to the total.
However, there is still much to be done and we need to raise more for Project Sri Lanka. We would very much like to reach £100,000 by the end of the academic year.
If your school or college would like to help us achieve this, there are resources available from headquarters to raise awareness about the work taking place. Please contact Carole Baldam on 0116 299 1122 or carole.baldam@ascl.org.uk