Planning for the unexpected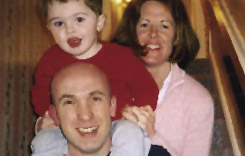 Illness and tragedy can affect any one of us, often when we least expect it. The ASCL Benevolent Fund may be able to help, as it has in this special case.
The article below was written via a speech recognition programme by a former ASCL member Sean Crosby, who suffers from aphasia and restricted mobility. The ASCL Benevolent Fund has recently been able to offer some support to Sean and his family, and he and his wife, Maria, wanted to write something that would make the work of the fund more widely known.
As Sean explains, six years ago he was a recently appointed deputy head with a bright future, an active sportsman, very fit. His wife was expecting twins. On the basis of his appointment, they had moved house and taken on a bigger mortgage.
A minor accident on his mountain bike, followed by two devastating strokes, left him partially paralysed and unable to speak.
Sean now has functioning speech but with aphasia, which is a problem and a frustration to him.
Aphasia is a language processing problem that can affect the ability to use speech, to understand the speech of others, to read and to write, and sometimes to use numbers. It does not make those who are affected any less intelligent. Stroke is the biggest cause of aphasia but it can also happen after head injury, tumour or illness.
Sean continues to have restricted movement. He is not able to work but hopes in time to achieve sufficient mobility and speech to be able to do so.
Because of his comparatively short period of service, his pension is modest even with ill health enhancement.
Sean and Maria approached the ASCL Benevolent Fund only last year, after a chance conversation with a former colleague. Until then, they had been unaware of the help it could provide or indeed of its existence.
By Tony Richardson, Associates Committee
---
Because of aphasia, Sean has difficulty expressing words. However, a speech recognition programme allowed him to contribute this article:
My name is Sean Crosby. I have got aphasia and stroke.
I was 36 years old. I was a deputy head of a secondary school. It was a Beacon School.
One Sunday morning I was out riding my bike. I went into a river. I laughed.
I didnt get headaches but I did so, serious ones, and then I had a minor stroke. They dismissed me after about four days. A few days later I had a major stroke. It was only days, and I was unconscious. When I woke up it was about an hour and I said, "I will be well again!"
I could not speak for about two and a half years. My speech is getting better but I have aphasia.
I had physiotherapy for two and a half years, three times a week. I had to fight for it. I was paralysed down one side, my right hand side. I still am.
I was a wheelchair user for about two years.
Occupational therapy I had for two and a half years once a week and private physiotherapy once a week for a year after I had the stroke. I paid for that out of my own money every week for two and a half years and then my money ran out and I started to call less and less.
The physiotherapist is helping to get my body in the right position again. She is a guru.
I went to acupuncture. I went to a Chinese herbalist. I went to a reflexologist, who treats my feet, two times a week for two years. I have tried every type of treatment possible.
Before the stroke, I was a runner. I did the London Marathon and the Karrimor Mountain Marathon. I was a runner since the age of 12 years. I was a skier, once, twice a year, and I was a mountain biker. I was a walker in the Dales and Lakes. I used to camp etc.
What have I done since having had the stroke?
I went on an adventure holiday in France, canoeing, white water rafting and hang gliding. I have been with the uphill skier club in Italy and a year after in Austria. They said that I could ski down alone.
My wife was having twins when I was taken into hospital; she was five months pregnant and unfortunately she lost them both. But some months later she was having Callum. She has been a rock!
It has been a God-send having Callum. He has brought me on and he makes me use the words.
---
ASCL Benevolent Fund
The ASCL Benevolent Fund supports members and former members, who, for whatever reason, stand in need of help. Naturally, every case is handled with strict confidentiality - it was the courageous and entirely personal decision of Sean and Maria to share their story.
We are grateful to them for demonstrating to members what the Benevolent Fund does when, as in this case, members are struck down before they reach the peak of their career.
The Benevolent Fund is based entirely on members' voluntary contributions. By adding £2 to your monthly direct debit for your subscription (or the equivalent amount to annual payments), you can give your support to the fund. Single donations and legacies are also warmly welcomed.
Please consider adding your backing for what we are able to do for Sean Crosby and his family and for the growing number of others whose stories remain private. For more information, contact headquarters on 0116 299 1122 or carole.baldam@ascl.org.uk or visit www.ascl.org.uk and click on 'about us'.
John Sutton
Chairman of the Trustees