The last word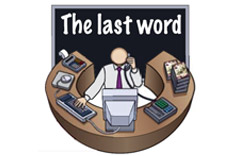 What could be worse than trying to climb the next rung on the career ladder - the months of writing CVs, brushing up on interview techniques and waiting for phone calls? How about actually getting the job...
And so, at long last, you've finally done it!
You've somehow managed to filch the TES out of the staffroom without anyone noticing; you've blown the dust off the CV in the bottom drawer and written nine drafts of your application letter whilst organising the open morning and dealing with a clutch of disciplinary incidents.
You've convinced your colleagues that you are not going for an interview but attending a very dreary conference on learning and teaching. You've managed to find your way to the right hotel in the right city at the right time.
You've waited by the phone almost as long as those tramps in 'Waiting for Godot'. You've stifled your whoops of joy when the chair of governors finally comes up with the offer and you've not even throttled your eldest when he reacts to the news by shrugging and turning up the volume on his MP3...
Yes, you've finally done it - and for a few days, but not perhaps as long as you anticipated, the elation is tangible.
The head says something nice on the noticeboard; your pigeonhole is full of cards that blaze with pink dawns and orange sunsets and people say things that make you feel just a little bit warm and runny.
You're told that the old place won't be the same so often you are almost tempted to reply, "Hold on - it's only November - I haven't gone yet!"
Of course, you'd be wrong if you did let any such whisper pass your lips, for in a very real sense, you're already beginning to disappear, like some kind of wraith, the ghostly inhabitant of your old persona.
At the same time, you simply cannot resist spending time that should be used for lunch rotas carrying out your 'research'. There's your new school's prospectus to annotate, policies to ponder and minutes to plough through.
It is now only January but already you are beginning to shiver in the long shadow of that first staff meeting and first assembly at the new place, even going so far as to replace your standard repertoire of singalong classics in the bath with a few rhetorical flourishes.
Hearing these through the door, your eldest son speaks a whole sentence for the first time in months, telling his mother that his father has gone as berserk as a box of frogs.
The new school is making inroads on your time, but, as the spring term passes, the truth is that you're not quite as busy as you once were. Now that your successor has been appointed and most meetings are about next year's staffing and development plans, you are no longer in the loop.
Meanwhile, you are still planning that first staff meeting in September, which is beginning to grow as gigantic in your mind as the Gettysburg Address.
And so the last days come...and by now you are in a very strange state indeed. You have come to believe that you are in fact leaving the most wonderful school in the world. The sound of a creaking cello upstairs in the music department seems as if it must be played by Mstislav Rostropovich; your least favourite duty inside the dining hall has become a festival of benevolent interaction.
It is July now and the staff gathers. You deliver an extremely bad speech about your emotional journey; you cause the paper shredder in your office to burn out; the sixth form pupil whose name you kept forgetting pops up with a bottle of wine and says enough to make you feel instantly guilty.
Then, of course, there are the horrors of that final hurrah, where you block off your ears so that they can't hear your valediction and then have to sit on your hands to stop yourself applauding, not because you are especially vain but because applauding is a habit you cannot outgrow.
Finally, there comes the moment when you park your car directly outside the office - a luxury never previously allowed - pack up one final box, throw away the last confiscated football and look through the dust motes at the bare room you are leaving behind. Now, at last, you are actually going and it is only the school cat that witnesses your departure.
There is an old song on the radio as you drive through the gates. You haven't heard it for years, but it seems pretty apt:
He's a real Nowhere Man,
Sitting in his Nowhere Land,
Making all his Nowhere Plans
For nobody.
Alistair Macnaughton will become head of The King's School, Gloucester after five years as senior deputy head at The King's School, Worcester.
The Last Word always welcomes contributions from members. If you would like to share your humorous observations of school life, please email Sara Gadzik at leader@ascl.org.uk We do offer a modest honorarium.