Beacon of hope for Sri Lanka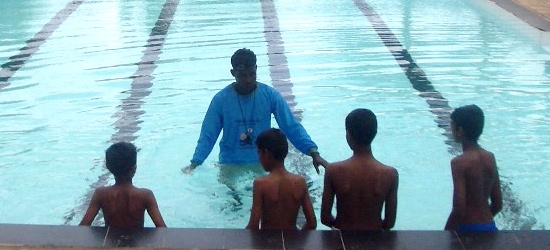 The Lighthouse Community Pool in Galle, Sri Lanka was officially opened on 29 June thanks to donations from ASCL members - in particular a group of schools in Surrey which raised about £44,000 for the project.
Mondays have been dedicated to women-only classes so that women can feel safe learning to swim under instruction by qualified female coaches. Free children's classes for school groups are available Tuesday to Friday during school hours and community classes take place in the afternoon.
The chief guest at the opening ceremony was Sri Lankan Olympic swimmer Julian Bolling, who expressed his admiration for the commitment to providing free swimming classes for children in order to increase confidence in the water and reduce deaths by drowning.
Representing ASCL at the ceremony was Bec Lyons from Adopt Sri Lanka, ASCL's partner organisation in the country which oversaw the projects and saw the pool through to its completion.
Near the end of the ceremony, an excited group of children had their first swimming lesson in the brand new pool. Bec said: "It was wonderful to see their joy in having the opportunity to learn to swim with qualified instructors in such a fantastic facility.
"Once again, a huge thank you from Adopt Sri Lanka and everyone involved in this project. This pool will make a huge difference to the lives of the children and wider Galle community."