Fingers on buzzers...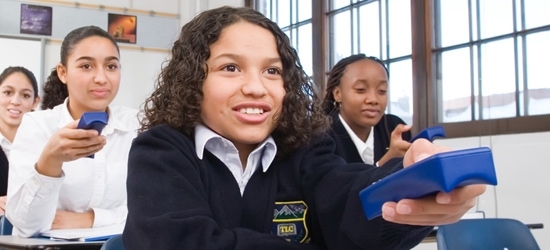 The next wave of education technologies builds on young people's enthusiasm and skills in all things int eractive, from video games and social networking to game show-style voting gizmos. Julie Nightingale has a look at some of the latest developments.
We all know that children are accustomed to using technology for entertainment. Rich visual content is one of the major attractions but increasingly children expect to be able to interact with it, whether that means instant messaging, uploading video clips to Facebook or voting online for the latest Big Brother evictee.
Schools have been trying to capitalise on students' passion for these technologies with interactive whiteboards and other gizmos that present content in a more attractive and engaging fashion. But there is always the danger that its novelty will wear off - and presentation is only part of the picture.
The bigger challenge is to identify how interactive technologies can engage students and support personalised learning and then to deploy those techniques in the classroom. The latest products emerging from software developers and hardware manufacturers are attempting to meet this challenge.
Voting technology
Voting technology of the kind seen on TV gameshows has already found its way into schools. The 'interactive response systems', to give them their formal title, are used with an interactive whiteboard. With the handset, students select responses to questions put by the teacher. Once the voting is in, the correct answers and the voting breakdown can be displayed on the board.
Cathy Darnton teaches business studies at Howell's School in Llandaff, Cardiff. She used one of the interactive response systems for a term with GCSE and A level students. The technology is an asset, she says, when teaching topics perceived as difficult or concepts which students are encountering for the first time.
"We used it mainly to revise and consolidate work that had already been covered and also as an introduction to the next lesson. I introduce the topic in a visual way and then ask short, snappy questions to generate thoughts and ideas."
The system records all information generated so the 'quiz' and the details of the students' responses are all captured.
It can also help to support assessment methods, she says. "Assessment is possibly the prime benefit of interactive response systems. They provide teachers with a fun way of assessing each child's understanding so we can personalise their learning."
Students liked the technology but took it in their stride, Cathy adds. "They found it is easy to use but they would not want to be working with it all the time. Now it's just another tool in their box."
It is also "quite expensive", she adds, so the school has not opted to buy the system.
TrueTube
The popularity of video-sharing website YouTube has spawned an interesting educational imitator in TrueTube. A free, web-based educational resource, it uses short videos to illuminate issues of morality, ethics, politics and religion for teenagers. The videos depict real-life stories and issues which draw students in and encourage them to explore and debate ideas. It can potentially be used in subjects such as English, RE, geography, citizenship, ICT, media studies and PSHE.
The site is run by charity-funded media production company CTVC and offers around 350 films of three to four minutes' duration on a wide range of issues. Most films are downloadable to help teachers with limited broadband capacity on the classroom. TrueTube also provides teaching resources for Key Stages 3 and 4, including lesson plans.
David Fetteroll, head of religious education at St Philip Howard Catholic High School in Bognor Regis, helped to trial TrueTube and now uses the materials mainly with year 10 students and above.
"We use it as a starting point. In a discussion on health and beauty, for example, we might use the 'evolution' clip - it shows a dull girl being transformed into a beautiful model. Or there's a clip featuring the actress Emma Rigby being interviewed about her character in [TV soap] Hollyoaks who developed anorexia. The work flows from that. It gets discussion going."
Part of the value lies in how the materials offer students views that contrast with their own, he says.
"Most of our students would have one opinion on abortion, for example, but we need to give an opposing viewpoint so that they can argue and articulate their views."
Some clips can stimulate even the most reserved students to speak up, he adds, such as an interview with a woman discussing why she was happy to see her husband's killer executed.
"Some girls were very angry and upset about the attitude of the woman, in particular those who aren't normally willing to give their opinions in class." Most clips are no more than three minutes long so students' attention is not overstretched.
David says: "It was one of the things we identified during the pilots. The concentration span of students is not that strong so we go for small clips where the information needs to be fast and clear. The use of videos lasting half an hour or more went out years ago."
Social networking
Some 49 per cent of eight to 17 year-olds in the UK have a profile on a social networking site such as MySpace or Facebook, according to broadcasting regulator Ofcom. These sites are routinely banned by schools, for sound child protection and security reasons, but the same technologies are now being deployed in more acceptable guises.
Learning Landscape for Schools (LL4Schools) offers social networks exclusively for schools or groups of schools. A registration system is limited to students or members of staff and the register is controlled by the school.
In East Anglia, LL4Schools is hosted on the East England broadband network's server and several schools are starting to use it. It can be a secure platform for collaboration, including transition work, between schools and also a safe environment to teach students about Internet safety and safe online behaviour.
Video games
Earlier this year, the Byron Review highlighted some of the safety concerns arising from children's use of video games and the internet. But as well as key risks, the review also underlined some of the cognitive, educational and 'fun' benefits of the technologies and noted that, where gaming is concerned, evidence backing the benefits was as strong as the evidence of the negative effects.
ConnectED, UK educational games console distributors, have conducted pilots in schools across the country looking at how video gaming consoles can support learning.
Richard Healey, of Birmingham East City Learning Centre, has been involved in a number of the pilots. "Students are excited by the way they can access information on the handset," he says. "They see it as a fun way to learn and are very engaged during lessons that use this technology."
Outcomes have been similar elsewhere. According to the Greenwich City Learning Centre, teachers said that, following the pilot, many students now see the gaming console as an aid to learning as opposed to simply a gaming machine.
Video games specifically for learning are coming. Developed with the blessing of the DCSF, BUZZ! The Schools Quiz is a PlayStation game that contains more than 5,000 questions covering Key Stage 2 content. Other software developers and content providers are being encouraged, by makers of handheld consoles as well as others, to develop game resources for secondary schools.
Whether viewed as merely the latest fads and expensive gimmicks to keep students attention, or part of a technological revolution in education, in the end new technologies are only as effective as the teachers using them. That will be for students to decide.
Julie Nightingale is a freelance writer specialising in education and ICT.
---
For more information on the technologies mentioned in this article visit:
Senteo: www.smartseminars.org.uk
Quizdom: www.qwizdom.com/Education
Turning point: www.turningpointschools.co.uk
Interactive education: www.interactiveeducation.co.uk/
Promethean: www.prometheanworld.com/activexpression
TrueTube: www.truetube.co.uk
LL4Schools: www.ll4schools.co.uk
ConnectED: www.connectededucation.com