Making the tough calls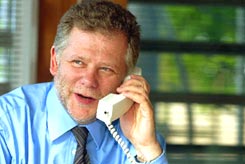 With Labour back in power, NCSL can breathe easier for its future. But new Chief Executive Steve Munby will still have to deal with concerns that NCSL has lacked priorities and clear outcomes. He tells Nic Barnard what changes are in store.
Eight weeks into the job and Steve Munby is still hitting the phones. The new chief executive of the National College for School Leadership has already spoken to more than 200 headteachers. But his target is 500.
Perhaps it's a tacit admission that school leaders are disappointed, once again, to see a non-head at the helm (until March he was director of education at Knowsley council).
But Steve says he wants all school leaders to think of it as their college. And he wants to work closely with SHA to understand what the issues are.
"There's a lot of goodwill out there. But NCSL needs to become even better. School leaders deserve an outstanding organisation."
He joins at an interesting time. The major review commissioned by the government last year acknowledged the college's creativity and energy and said that in less than four years it had racked up "very significant, even remarkable, achievements".
However, beyond the praise lay a call for more precision about outcomes, priorities and activities, and the government made its point by moving the National Remodelling Team away from the college to the Teacher Training Agency.
Steve acknowledges there are issues. "The college needs to be clearer about its core business," he says.
Today on his desk is the annual NCSL poll of school leaders, which says that 88 per cent think the college has had a positive impact on their own professional development.
Steve doesn't mention a finding of the 2003 survey: that one in four heads could name NCSL's chief executive - six times that of the TTA and the Qualifications and Curriculum Authority. This is a surprisingly high profile job.
Too much too soon
It's a big job, too - a £111m budget last year, contact with 40,000 school leaders a year, and almost two dozen programmes; perhaps too many. Has the college lost its focus?
Last year's review said as much. Steve's analysis is that the college is trying to do too much, developing too many initiatives, and failing to communicate what distinguishes it from other providers, such as the Specialist Schools Trust.
It is, he suggests, time for the college to take a step back.
"We need to move strongly towards a commissioning approach for our programmes. That means being clear about outcomes and quality assurance but with greater flexibility in delivery," he says.
"That is a clear ambition for the college: to control less and directly deliver less but have an even greater impact."
This picks up on another criticism in last year's report - that the college hampers creativity and innovation among other providers.
Steve says the new approach will let providers respond better to local needs - to distinguish the small rural primaries from the big urban secondaries. In the buzz word of the moment, he wants "personalisation, not one-size-fits-all".
The trick will be to do that while maintaining the college's national status. Steve says this is crucial: "We are the envy of many countries around the world because we have a national college with a very good reputation.
"It would be a great loss if by moving towards greater commissioning we lost the national context."
This will inevitably mean some programmes going to the wall; Steve declines to say what they will be.
Three challenges
But he says the college needs to focus on the biggest challenges facing school leaders in a changing educational environment.
There are, he says, three. With perhaps half the country's heads and deputies due to retire over the next decade, schools need to grow the next generation of leaders.
Heads also need support in leading outside their own school, a response to developments in school organisation. "Increasingly we're seeing groups of schools collaborating, and school leaders working as consultant leaders or school improvement partners or leaders of federations or collaboratives," he says.
But the biggest challenge is posed by the 2004 Children Act, which followed the green paper Every Child Matters. It requires greater cooperation between education and other services, with an expectation that heads will collaborate with the wider community.
It's an agenda with which he is familiar - Knowsley was a beacon authority for children's services. It is, he says, "a major, major challenge".
"Full service schools, children's centres, extended schools, genuine multi-agency collaboration, health facilities, leisure facilities - there are some real dilemmas here.
"Will schools perhaps have a chief executive overseeing the whole campus, with a head or lead teacher in charge of education? Will we have an executive board as a subgroup of the school governors?
"What sort of skills will you need if you're managing a full service school with a whole range of other services on site?"
Talking to heads
A Geordie by birth, Steve started out as a secondary history and English teacher in Birmingham, becoming a lecturer at Sunderland Polytechnic before moving into local government as a consultant on assessment. Promotions led him through Oldham and Blackburn with Darwen to Knowsley.
He arrives in Nottingham with a reputation as a strategic thinker, and says his style will be collaborative, building partnerships with the DfES and providers. The important factor, he says, is getting the best outcomes for children, "not who has the most control".
That will be welcomed. The other underlying concern in last year's review lay in relationships with the DfES, partner organisations and teachers.
Some LEAs and other groups have said the college doesn't always kept them informed in the way, for instance, the TTA does.
Meanwhile a secondary head with close links to the college noted mutterings at the college's Seizing Success conference in March, where it was only halfway through the second session that a headteacher's voice was heard.
Certainly Steve acknowledges that while many heads feel listened to by the college "a significant number don't". Which brings him back to his 500 phone calls.
Those calls will be followed by nine regional conferences in June and July where he will set out his vision to 1,500 heads. (They're not the only big dates in his diary; he gets married this summer to Jacqui, a Barnsley secondary head and SHA member.)
The response he gets will inform their corporate plan.
School leadership, Steve says, is a "relentless" job where it's hard to find the time to step back and look at the big picture. "I've heard it said a good school leader spends time on the dance floor and on the balcony.
"Our role is to help them get that time on the balcony.