Food for thought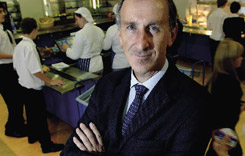 In 2001, Deputy Head Steve Hatcher 'took on' catering at St Aidan's High School. Today its kitchen serves 1,800 high quality meals a day from four outlets and is self-financing - but getting there hasn't been easy, by a long way.
Sometime around the beginning of the millennium, I was on break duty in the school's main hall, supervising pupils who were queuing for their morning snack, which consisted mainly of a large slab of 'pizza' prepared by the contract caterers.
As the pupils walked away from the counter, trails of grease dripping from their plates followed them across the hall. Was all the food the school gave the children like this?
In the following weeks, I discovered: in a comprehensive of 1,750 students only 300 a day were eating school meals.
The head had not eaten a school meal for at least five years. Only about a dozen staff ate regularly from the school kitchens. Visitors were always fed by outside caterers.
For those that had it, a school dinner usually consisted of chips, burgers, nuggets, pizzas and/or sticky buns. There were a couple of plates of salad and two apples, as specified in the contract, but no one bought them.
However, there was an upside: the school rented four vending machines (fizzy drinks, confectionery and crisps), which realised a £40,000 turnover each year.
I felt ashamed to be part of a system which appeared to be doing virtually nothing for students' health and continuing lifestyle. I have to confess that I had always taken the school dinner bit for granted - it was something provided by 'others' and had little to do with the school managers.
Could something be done? In those pre-Jamie Oliver days, there was little advice freely available and no national debate about school catering.
For the next year, I spent every spare moment speaking with contract caterers, catering consultants, students, parents, teachers and governors. I visited other schools, local businesses and other large scale catering organisations.
In January 2001, I decided to 'take on catering'. I was told that I knew nothing about catering, environmental health, COSSH, food standards etc.
In truth the existing providers had shown scant regard, considering the state of the kitchens, food preparation areas, storage and provision. I decided to make a clean break from them - go it alone, take over the kitchens.
In March 2001 we appointed a chef/catering manager out of a field of 120 applicants (the 70 who made the long list did so because they had no school experience) and set about the change.
Today our catering enterprise is unrecognisable. The school directly employs a chef/catering manager, a chef assistant catering manager, a trainee chef, a baker, an all day cafe manager, three supervisors, a kitchen porter, 20 catering assistants, a kitchen administrator, a dietician and an organic gardener.
We serve 1,800 high quality meals each day, including 120 for staff, from a choice of four outlets - a year 7 dining room, a purpose built restaurant for years 8-11, an all day sixth form café and a sandwich/salad bar. Selling that amount of food means it finances itself.
Food education
But how do you get from A to B? No matter how many new DfES regulations are thrown at them, students used to chips and fizzy drinks will not change their eating habits overnight.
The students would need persuading, cajoling, encouraging and educating with a few forced options.
The chef and I devised a structure for a week's menu: there would be a traditional meal option, such as casserole with vegetables; a 'fast food' option, such as baked chicken with rice; a vegetarian option such as pasta bake; and a snack option - a sandwich or soup and a roll.
Customers would have to buy the full option and not pick out buns and potatoes only. The price of the most expensive option would not be more than the free meal allowance.
The budget would balance over time rather than seek to make a profit, so some of the more expensive foods could be subsidised to provide more variety.
Having got the plan, we set up focus groups of students and parents to get their views and to promote the message - if we could get a critical mass to support the move, we felt confident that it would not completely collapse.
We showed pictures of the meals and sent out information about what was coming in the newsletter and in leaflets: better, healthier food, proper meals at lunchtime (takes the pressure off the evening).
Focus groups wanted a drink included in the package - a fruit juice or fruity drink not carbonated was agreed.
Let them eat crisps
We also felt that we were in this for the long term. Not everything had to change overnight. So the carbonated drinks were still for sale along with crisps - to be bought with a meal, mind, not on their own.
The vending machines stayed for a while to keep students in school and support the budget. Once a week there would be chips on the menu along with a burger or something, so that even the most reluctant would come in once a week.
We had real worries about the finances - we couldn't take people on and after a few months say it's not working, back to contract. One governor was unconvinced; he'd looked at the figures. He wanted to keep chips on every day to keep people's jobs. But the focus groups suggested we could sell at least as many meals as we used to.
We made a commitment to standing a loss (say £10,000) over the first two years and then it had to be self-financing.
There were some teething problems - students couldn't see why they couldn't pick what they liked as in a commercial café. One Friday, confidence growing, the chef cooked 200 portions of salmon and sold 44. Many staff got fish takeaways for the weekend.
Now he knows better what will go well and what will go to a minority. But you need to keep that food-rather-than-fuel minority interested because they talk about it and that spreads the word.
You learn as you go. Students seem to really like rice; some will always have soup or the pasta; running out of things is good advertising; as you get more popular, queuing becomes an issue.
Also the more you sell the more staff you need, and the more food; but the more food, the better deals you get from wholesalers.
Sixth form cafe
As time went by more ideas developed: the sixth formers wanted to be included and a small dining area was converted into a sixth form cafe. This is open from 8am to 5pm and all the school can use it before and after school hours.
Here, during the day, sixth formers can get coffee, drinks and snacks. Here too, unsold meals are often purchased by hungry students in the afternoon, helping wastage.
Of course the customers are never satisfied. Now they want a salad bar - notoriously the hardest thing to make work financially - but this year we are going to try it. We remind ourselves that it's not just about the food business but also about food education.
Now the vendors are gone and no fizzy drinks or sweets are sold; the school employs a dietician to monitor the meals.
September 2006 has seen new regulations from the government on school meals. In essence this is good news for all teachers. Anything which forces us, as adults, to re-consider how we are feeding children today is to be welcomed. Health must be placed ahead of profit.
We should be pleased to see less sugared drinks, fewer chocolate bars and reduced quantities of salt in food in schools. The students will benefit from more fruit, vegetables and healthier drinks.
But it will not be easy to persuade them to change their habits. Some will still stop at the newsagents before and after school. Some teachers are worried about what to do with the unhealthy packed lunches and the sweets, crisps and cans of pop smuggled in their school bags.
The government needs to see this developing over the longer term. We should embrace these new guidelines as targets but schools need the freedom to work gradually to bring them in according to their local circumstances, increasing the variety and attractiveness along with promotion and education about food in general.
Education extends far beyond the classroom. Better food at lunchtime and a better food culture does have a beneficial impact on every aspect of school life.
By raising the standard and quality of all food served in school, improving the environment in which pupils eat, providing customer care courses for all catering staff, encouraging teachers to run lunchtime clubs in return for free meals...for all these reasons a more virtuous circle of behaviour and attitudes develops so that lunchtime is part of what the school offers.
The last five years have been demanding and full of hard work. As a deputy head, catering was never on my job description and has come to occupy a disproportionate amount of my working day. However, the rewards have been very worthwhile.
Steve Hatcher is Deputy Head of St Aidan's High School in Harrogate.
---
Further Information
In response to the interest in the catering enterprise at St Aidan's, the school has developed a website www.catering4schools.com which offers access to their menus, nutritional guidelines, papers and policies.